Anthony Asquith's 1928 film to get a new score from John Altman.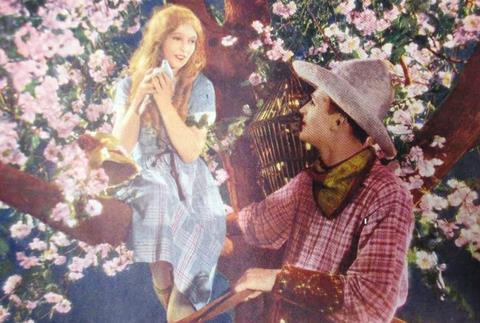 The BFI London Film Festival (Oct 7-18) has announced that its Archive Gala will be a new restoration of Anthony Asquith's Shooting Stars.
The restoration by the BFI National Archive will receive its world premiere on Oct 16 with a new live score by John Altman, the BAFTA and Emmy award-winning composer whose work includes Titanic and Goldeneye. The score has been written for a 12 piece ensemble playing multiple instruments.
Shooting Stars, first released in 1928, was Asquith's first film as co-director and scriptwriter and is a drama set behind the scenes at a film studio.
Annette Benson (Mae Feather) and Brian Aherne (Julian Gordon) play two mis-matched, married stars and Donald Calthrop (Andy Wilkes) a Chaplin-esque star at the same studio, with whom Mae becomes romantically involved.
Chili Bouchier, Britain's first sex symbol of the silent era, plays a key role as an actress/bathing beauty, an attractive foil to the comic antics of the comedian.
Asquith restored
Asquith (son of former Prime Minister Herbert Asquith) had access to see Chaplin making The Circus on a trip to Hollywood and he had also been behind the scenes at German film studios. Both influences made their way into Shooting Stars.
Asquith went on to have a successful international career in the sound era with films such as Pygmalion, The Importance of Being Earnest, The Browning Version and The VIPs.
The film has been restored by a team of BFI experts from materials held in the BFI National Archive and joins previous BFI restorations of Asquith's Underground (1928) and A Cottage on Dartmoor (1929).
Robin Baker, head curator at the BFI National Archive said the restoration took "months of work from our dedicated teams".
New score
Altman's jazz-influenced new score is inspired by some of the sheet music for the song "Ain't She Sweet", which is seen on screen in the film.
"For the new score I have been inspired by dance band sounds and Duke Ellington in 1927," said Altman.
"It's not a slavish period recreation but I have tried to find an appropriate way of reflecting some of the plot twists and ironic deceptions through a series of interlinked musical themes.
"The score will be played by a very versatile group of musicians and we will end up using almost as many instruments as a complete orchestra through the whole film."