Dir: Justin Chadwick. South Africa. 2013. 144mins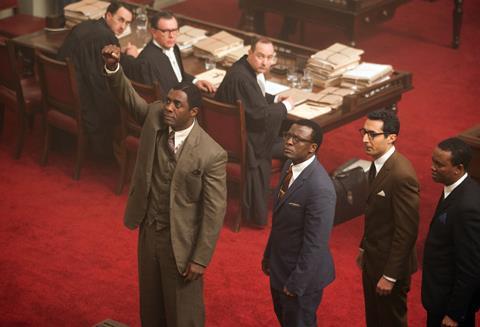 An unquestionably earnest and massive undertaking, Mandela: Long Walk To Freedom aspires to do nothing less than be the definitive overview of South African leader Nelson Mandela's life, one of the most colourful and momentous of the 20th century. But the ambition of the film's scope isn't matched by the artistry of its vision: This nearly two-and-a-half-hour biopic is largely too tasteful and conventional to offer much insight into the remarkable man it wishes to celebrate.
Throughout Mandela, we see much of Mandela's life, but there's little momentum or narrative build to the events.
Premiering at the Toronto Film Festival, Mandela will be released in the US at the end of November by the Weinstein Company, which will push hard for Oscar consideration, especially for Idris Elba's lead performance as Mandela. Worldwide familiarity with Mandela ought to be a major theatrical selling point, and one can imagine that the movie will eventually become an instructional tool in classrooms to offer a primer on Mandela's legacy.
Based on Mandela's autobiography, the film covers over 50 years, providing a brief flashback to the man's upbringing before focusing on his adulthood, spanning his time as a lawyer in the 1940s up to his election as South Africa's president in the '90s. Mandela doesn't shy away from his early womanising and failed first marriage, but the bulk of William Nicholson's screenplay concentrates on the activist's marriage to his second wife Winnie (Naomie Harris) and his growing opposition to South Africa's oppressive white government, which eventually earned him what was expected to be a lifetime prison sentence.
Manchester filmmaker Justin Chadwick (The Other Boleyn Girl) previously made The First Grader, the true story of an elderly Kenyan who decided he wanted to learn to read before he died. That film was a well-meaning, simplistic, drama that loaded up on feel-good sentiment, and on a larger scale that is also what Mandela achieves. But the film's more epic objectives remain unfulfilled.
To be sure, there's very little that's terribly wrong with Chadwick's film. Mandela wouldn't be confused with scintillating cinema, but it tells its story in a thoughtful manner, presenting Mandela's life in a straightforward way without trying to inject any sort of artificial character arc onto the story. But that hands-off approach also means that the film doesn't have much of a point of view about its narrative, serving more as a rote recitation of memorable moments from Mandela's life rather than as an incisive perspective on the events or their political and social repercussions.
Elba, known from his roles on the television shows Luther and The Wire and from films such as Pacific Rim, gives a confidently controlled performance as Mandela. In the movie's early stretches, Elba plays the man as a charming, impassioned leader, showing the flesh-and-blood person who would become a symbol for revolution. Unfortunately, as Mandela evolves into a champion of the people, the filmmakers strip away some of the humanity from the character, turning him into an icon but one we only observe from a distance. Elba's portrayal is measured and heartfelt, but it can't transcend the formulaic storytelling.
The happy surprise in the film is Harris, who shows the fire and anger within Winnie, which complemented (and sometimes clashed with) her husband's more moderate rhetoric. At Mandela's best, we see how this couple's partnership was first forged by their shared disdain for South Africa's policy of apartheid — only to see that bond weaken due to Mandela's 27-year prison stint and Winnie's combative oratory that swept through the country's protect movement during his absence.
Often, wives in biopics are treated as little more than dull, pretty cheerleaders for their brave husbands, but Harris makes Winnie one of the more layered female characters to ever be in a movie about a famous man.
Nonetheless, Chadwick consistently undermines his good intentions with poor or lazy choices, whether it's the use of on-the-nose musical cues to underscore emotional moments — U2's Pride (In The Name Of Love) and Public Enemy's Fight The Power both put in an appearance — or the tendency to reach for the sweeping crescendo when subtlety might have proved more effective.
Additionally, Chadwick has never demonstrated an ability to plumb the depths of his characters, and that liability is quite problematic when Mandela is sent away to prison, the movie unable to externalise the depression, disillusionment and helplessness the man must have experienced during that time. Throughout Mandela, we see much of Mandela's life, but there's little momentum or narrative build to the events. The cumulative effect can't help but be somewhat affecting — Mandela's experiences are too inherently powerful to be dramatically inert — but this Long Walk ultimately takes us to a place that's not nearly illuminating enough for the length of the journey.
Production companies: Distant Horizon, Origin Pictures, Pathé, Long Walk To Freedom (PTY) LTD, Industrial Development Corporation Of South Africa Limited, National Empowerment Fund, Videovision Entertainment
International sales: Pathé International, www.patheinternational.com
Producers: Anant Singh, David M. Thompson
Executive producers: Cameron McCracken, Francois Ivernel, Geoffrey Qhena, Basil Ford, Sudhir Pragjee, Sanjeev Singh, Philisiwe Mthethwa, Hlengiwe Makhathini
Screenplay: William Nicholson, based on Nelson Mandela's autobiography Long Walk To Freedom
Cinematography: Lol Crawley
Editor: Rick Russell
Production designer Johnny Breedt
Music: Alex Heffes
Website: http://mandelafilm.com/
Main cast: Idris Elba, Naomie Harris, Tony Kgoroge, Riaad Moosa, Jamie Bartlett, Lindiwe Matshikiza, Terry Pheto, Deon Lotz