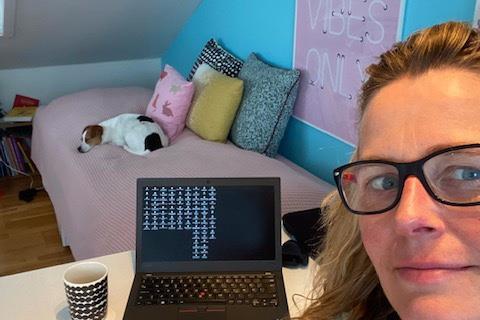 Lizette Gram Mygind is festival consultant for feature films at the Danish Film Institute (DFI), where she has worked since 2003. Before that, she was head of PR and marketing for Zentropa Productions.
She lives in Copenhagen with her husband and three children, and their Danish-Swedish farm dog Lulu. The DFI is one of the partners in Scandinavian Films, the umbrella organisation that has an online pavilion at the virtual Cannes Marche. They are also hosting five free webinars this week, about production during the pandemic, sustainable production, reaching audiences, genre talents and getting a first feature made.
Some offices have reopened in Denmark, so when will you be back in the DFI office?
I've been working from home since the lockdown started on March 11. Our offices at the DFI reopened on June 15, but because of social distancing we have a schedule that about 30% of staff is there at any time. Right now, I go into the office maybe three days a week.
How did you adjust to working from home with three children, your husband and your dog also there?
Now the kids are back in school, but when they were at home, we were on a schedule to have lunches together, to make sure they did exercise and school work. With five people in one house, and everyone doing video calls, it was difficult. So I mostly work from my daughter's bedroom. But it's also the room where the kids have their PlayStation. So the adults used it in the morning and the kids could have it after 2 pm.
Spending time together has been challenging with three teenagers at home, but in years to come we'll look back and say, "Remember that big pause in 2020?" and we'll think of it as something positive.
What projects have you been working on in this strange pandemic time?
Alongside my colleague Christian [Juhl Lemche], we've still been busy talking to festivals about upcoming Danish films. We're finding out the value of online festivals. What does that mean for the film? There is a lot of new information that has to be processed.
Every year at DFI we organise an industry day for the professional film industry. Claus [Ladegaard, DFI CEO] was really sure that we should just go virtual with that. But instead of one long day followed by a dinner, we did three separate sessions, two hours each, for three weeks. One was about restarting production, one was about distribution and exhibition, and one was about how the international market is changing this year. The industry really seemed to appreciate those sessions. I've also been working on a project showcasing Danish films with a US VoD company that will be announced soon.
How are you maintaining an office routine?
We have a weekly meeting with the entire 40-strong team across all of the DFI's film support activities. Claus our CEO also comes in with any news we need to know about, like the aid package that was coming from government.
As for the international department, we haven't had an active department head [former head Noemi Ferrer Schwenk departed in February and incoming head Jacob Neiiendam starts August 1] so Claus has stepped in there. We have meetings with him every other week to discuss new ideas like how to handle the Cannes Label [which was awarded to Thomas Vinterberg's Another Round].
What about the other organisations you're involved in, like European Film Promotion and the Scandinavian Films umbrella group?
EFP have hosted crisis meetings, which have been really useful and insightful, with speakers from Cannes Marche, from the Academy about Oscar regulations, learning from what CPH:DOX did online. This has been sharing very useful knowledge and that's something I hope will carry on, that organisations or festivals will collaborate more.
For Scandinavian Films, we can't have our famous Cannes terrace in real life this year, but we wanted to keep working together on something that makes sense in this virtual world. What do the Nordic countries have to offer right now? We thought webinars made sense because we have some experience from opening up [earlier than other countries] that will be beneficial for other people in the industry to learn from.
What could be some of the benefits of the way we are working in 2020?
We will be seeing more online markets and more online pitching forums, but I think festivals will stay. Some might disappear but for others, their importance will increase, people are craving that connection again. A lot of filmmakers are missing meeting the audience. A lot of what we do at the institutes is relationship building and networking. At a Meet the Danes reception, you can catch up with people in a different way than on Skype or Zoom or Teams.
What have you been watching in lockdown?
I saw a lot of CPH:DOX films with my family: we watched The Fight For Greenland and Songs Of Repression and a few others. I heard about Normal People so I first read the book and then watched the series, that was something great to discover. Also, DR had a programme called Denmark Sings that was broadcast every Friday during lockdown, with normal people or celebrities across the country singing old Danish songs. It gave you the feeling that we're all in this together.
The DFI Cinemateket did a fantastic pop-up drive-in cinema at this big open space in outer Copenhagen harbour. We went with our middle son to see Sergio Leone's The Good, The Bad And The Ugly, and ate spaghetti and meatballs. Danish cinemas are re-opened now but with three kids and work, I just haven't had time to go! I'm not afraid to go back to the cinema, my problem is just time.
Have you taken up any other hobbies?
I've never baked as much: Danish rye bread and sourdough, cookies, cakes. Plus my garden is thriving, my roses have never looked so beautiful!