Titles will include Michael Moore's Where To Invade Next.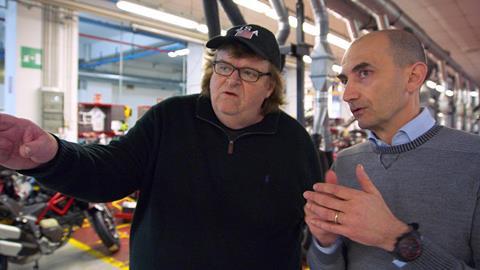 Network's sales division has struck a deal to represent the home entertainment rights to Dogwoof and Peccadillo Pictures titles.
Network will start repping Peccadillo titles from July 1 and Dogwoof films after Aug 1.
Network currently represents its own catalogue of titles as well as labels including Medium Rare, Fabulous Films and WWE.
Claire Bailey, Network's head of sales, said: "We're thrilled to welcome Dogwoof and Peccadillo Pictures to Network and start working on an incredible array of titles from both labels, comprising an already established catalogue and some very exciting new releases."
Daniel Green, home entertainment manager at Dogwoof, added: "Network's fresh approach to the ever-changing market consistently proves the value of home entertainment, and it's just one of the many reasons why we're looking forward to working together."
"We've had a fantastic year so far with the release of Michael Moore's Where to Invade Next which has been this year's most successful documentary at the UK box office, and will be our first title released through Network on DVD and Blu-ray on 8 August."
Tom Abell, chairman at Peccadillo Pictures, added: "We're very excited to be working with Network on our home entertainment sales and distribution. The team's invaluable knowledge and expertise along with a natural synergy between our two companies will ensure that Peccadillo continues to build on its ongoing success and market growth."
The move signals consolidation within the UK independent distribution landscape and could prove a financial boost for distributor Network.