Israeli director was last at Cannes in 2008 with Waltz with Bashir.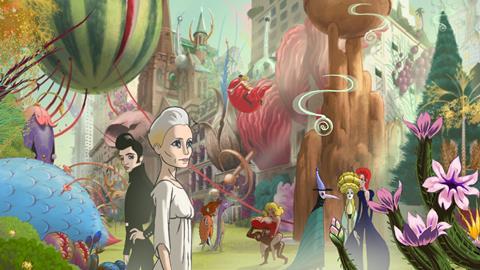 Ari Folman's highly anticipated The Congress will open Directors' Fortnight, the parallel section has announced via its official twitter account.
"The Congress from Ari Folman will open the 45th Fortnight!," tweeted the sidebar from its @quinzaine twitter account.
Earlier this week, the Cannes Film Festival announced Sofia Coppola'sThe Bling Ring would open the Official Selection's Un Certain Regard in a similar twitter operation.
The Congress is an adaptation of Polish writer Stanislaw Lem's sci-fi novel The Futurological Congress about a Hollywood star — who wants to withdraw from the limelight — who sells her scanned image to a studio for use in future films.
It stars Robin Wright, Harvey Keitel, Paul Giamatti and Dany Huston, mixing animation and live action.
"Illusion, part-realist film, part-fantasy cartoon. The Congress looks at our future and that of the cinema. In this powerful adaptation of Stanislaw Lem's cult novel, Ari Folman gives free rein to his imagination," said Directors' Fortnight artistic director Edouard Waintrop in a statement released afterwards.
Folman was last in Cannes in 2008 with the Oscar-nominated feature-length animation Waltz with Bashir about an Israeli veteran's memories of his tour of duty during the 1982 Israeli invasion of Lebanon, which premiered in competition.
The Congress is sold worldwide by Match Factory.
The film is a co-production between Bridgit Folman Film Gang (Israel), Pandora Film (Germany), Entre Chien et Loup (Belgium), Opus Film (Poland), Paul Thiltges Distribution (Luxembourg) and ARP (France) with the support of Casa Kafka Pictures, Wallimage, RTBF, Pôle Image de Liège et Cinéfinance, Belgacom and the Dream Touch Tax Shelter.
Directors Fortnight will unveil its full line-up next Tuesday in the morning (April 23).