Kidnapping comedy marks Blue Fox Entertainment's first theatrical release.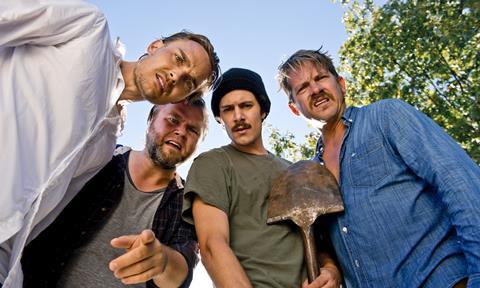 Blue Fox Entertainment has announced it has acquired worldwide rights to the comedy Big Bear and will release in theatres and on VOD on September 22.
The title will be Blue Fox Entertainment's first theatrical release and centres on a man dumped by his girlfriend who goes ahead with his bachelor party and discovers the man his fiancée ran off with has been kidnapped by his friends.
The film marks the directorial debut of actor Joey Kern, known for TNT's Good Behavior and Super Troopers, who stars alongside Pablo Schreiber, Adam Brody, Tyler Labine, Zachary Knighton, and Toby Huss.
Big Bear was financed by Maybe This Year Productions (MTY), which also produced in association with Fortress Features.
Kern wrote the script and produced with MTY Productions' Brandon Evans, Fortress Features' Brett Forbes and Patrick Rizzotti, and Luke Edwards.
"We want to make a big splash with our first theatrical release under the Blue Fox Entertainment label," Blue Fox Entertainment partners James Huntsman, Todd Slater and Andreas Olavarria said. "Given this terrific cast and their excellent performances, we believe we have a winner with Big Bear. Joey Kern absolutely knocked his directorial debut out of the park, we are proud to introduce him as a director to the world."
Evans added: "I couldn't be more excited that Big Bear has found a home with Blue Fox Entertainment. And I can't say enough great things when it comes to our director Joey Kern. He had an incredible vision how he wanted to direct this film, and after working with him on our film Bloodsucking Bastards, it was very easy for us to say yes to him when he brought us the script."
Kern said: "Working on Big Bear with Pablo Schreiber, Adam Brody, Tyler Labine and Zachary Knighton was a career highlight. I'm forever grateful to MTY and Fortress Features for taking a chance on my script and allowing me to be in front of and behind the camera. To say this film means a lot to me is an understatement, so to have the opportunity to release it out into the world with a first-rate company like Blue Fox couldn't make me happier."
Todd Slater brokered the deal on behalf of Blue Fox Entertainment with MTY Productions' Evans as well as Fortress Features principals Forbes and Rizzotti.