British drama to world premiere at TIFF.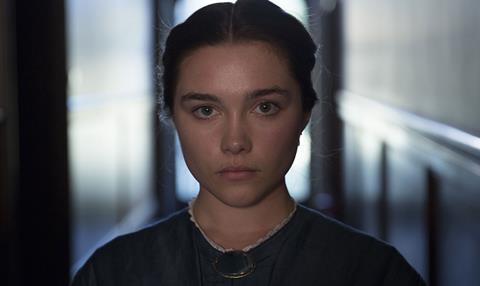 Protagonist Pictures has taken on worldwide sales rights to Lady Macbeth, the debut feature from theatre director William Oldroyd, which will receive its world premiere at Toronto International Film Festival (Sept 8-18) in the competitive Platform programme.
The film has also been selected to screen in competition at San Sebastian Film Festival (Sept 16-24).
An adaptation of Nikolai Leskov's 1865 Russian novella Lady Macbeth Of The Mtsensk District, the film stars British newcomer Florence Pugh (The Falling).
Pugh plays Katherine, a young woman stifled by her marriage of convenience to an industrialist twice her age. Bored, alone and unable to fulfill her duties as a wife, she longs to be free. When she embarks on a passionate affair with a farmhand on her husband's estate, her passion is awoken and she will stop at nothing to keep hold of him.
Former Screen Star of Tomorrow Cosmo Jarvis (Spooks: The Greater Good) plays opposite Pugh while supporting cast includes Paul Hilton (Wuthering Heights), newcomer Naomi Ackie and Christopher Fairbank (Guardians of the Galaxy).
The script was written by rising playwright Alice Birch and is the first feature produced by Fodhla Cronin O'Reilly of Sixty Six Pictures. Cronin O'Reilly earned an Oscar nomination in 2013 for her short Head Over Heels.
Creative England, the BFI, BBC Films and Oldgarth Media financed Lady Macbeth through iFeatures, Creative England's talent development and low budget feature film initiative, designed to support emerging filmmakers make their first full feature film.
The film was shot in Durham and Northumberland, and Northern Film & Media and Creative England's production services also supported the project in sourcing locations and crew.
Previous iFeatures titles include The Goob which premiered at Venice Days in 2014, and Spaceship, which made its debut at SXSW earlier this year. iFeatures is in its fourth iteration and announced its latest development slate of 12 films last month.
Oldroyd began his career in theatre, rising to become Director in Residence at the Young Vic. He subsequently directed a large-scale production of Sartre's 'Kean' in Tokyo, 'Waiting For Godot' in Munich and 'Two Noble Kinsmen' at the RSC for the Complete Works Festival. His opera productions include 'Don Pasquale' at Sadler's Wells Theatre and 'La Serva Padrona' in Portugal.
Moving into film, his second short, Best, won the Sundance London Short Film Competition in 2013. Oldroyd is represented by Giles Smart at United Agents.
Production design is by BAFTA-award winning Jacqueline Abrahams (The Lobster), costume design is by Holly Waddington (The Man From U.N.C.L.E) and cinematography is by Ari Wegner (Ruin). Nick Emerson (Starred Up) edited the film.
Protagonist CEO Mike Goodridge described Lady Macbeth as "a gut-punch of a period film crackling with repressed emotion and violent passion" and said Pugh's "magnetic performance is destined to make her a star".