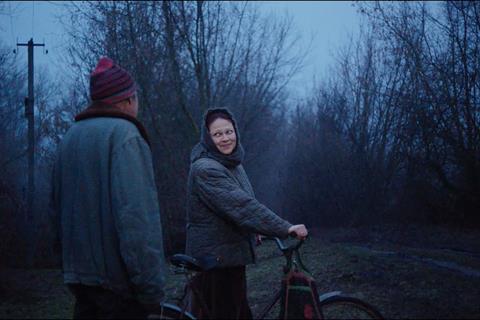 Film funds from France, Germany and Italy are among 12 organisations uniting for Ukrainian Films Now, a fundraising and networking event at Cannes in support of Ukrainian films in post-production.
The event will take place as part of the Marche du Film's official programme, with the nine Ukrainian works-in-progress presented on May 22 to an audience of industry professionals.
The aim is to connect the Ukrainian film teams with potential European producers and partners. A cash prize of €30,000 ($31,700) will be awarded to one of the nine films, chosen by a jury of filmmakers who have titles in Cannes: Clément Cogitore (Sons Of Ramses, Critics' Week), Elena López Riera (The Water, Directors' Fortnight), and Agnieszka Smoczyńska (The Silent Twins, Un Certain Regard).
Scroll down for the full list of films
The partners are: ALCA/Région Nouvelle-Aquitaine, Ciclic/Région Centre-Val de Loire (both France), HessenFilm, Mitteldeutsche Medienförderung (both Germany), Fondo Audiovisivo FVG, IDM Film Commission Südtirol (both Italy), Screen Brussels, Wallimage (both Belgium), Film i Skåne (Sweden), the Estonian Film Institute, Film Fund Luxembourg, and the Slovak Audiovisual Fund.
The Ukrainian Films Now initiative is being driven by European training, networking and development organisation EAVE, First Cut Lab and Italian film event When East Meets West, in partnership with EFAD and CineRegio.
Further co-production awards will be provided by the regional film funds; plus an editing award from consultancy First Cut Lab. Funds including Film Fund Luxembourg, Mitteldeutsche Medienförderung, and the Slovak Audiovisual Fund have committed to including films from the event in upcoming minority co-production schemes.
Six of the nine Ukrainian projects are debut features, including Maryna Vroda's Stepne, about a man reluctantly returning to his home village to the bedside of his dying mother. Vroda won the short film Palme d'Or at Cannes 2011 for Cross.
Ukrainian Films Now 2022 selection
Chrysanthemum Day, dir. Simon Mozgovoy, prods. Artem Koliubaiev, Alex Chepiga, Daryna Zakharova*
Company Of Steel, dir. Yulia Gontaruk, prods. Ivanna Khitsinska, Alexandra Bratyshchenko – documentary
Dissident, dirs. Stanislav Gurenko, Andriy Alferov, prod. Oleksandr Omelyanov*
Do You Love Me?, dir. Tonia Noyabrova, prod. Anastasiia Bukovska
The Editorial Office, dir. Roman Bondarchuk, prod. Darya Bassel
La Palisada, dir. Filip Sotnychenko, prods. Halyna Kryvorchuk, Valeria Sochyvets, Sashko Chubko*
Stepne, dir-prod. Maryna Vroda*
U Are The Universe, dir. Pavlo Ostrikov, prod. Vladimir Yatsenko*
When We Were Fifteen, dir. Anna Buriachkova, prods. Natalia Libet, Vitalii Sheremetiev*
* debut feature