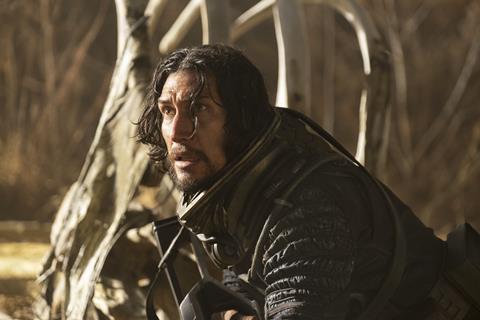 Adding to the growing list of Hollywood films now being admitted to China, Columbia Pictures has secured release dates in the territory for Adam Driver sci-fi thriller 65 and hybrid musical comedy Lyle, Lyle, Crocodile.
65 will launch theatrically in China on March 31 and Lyle April 15.
Written and directed by Scott Beck and Bryan Woods and produced by Sam Raimi, 65 stars Driver as the pilot of a spacecraft that crashes on the Earth of 65 million years ago. Columbia is launching the film in the US this weekend.
Lyle, directed and produced by Will Speck and Josh Gordon, is a live action/CG adaptation of the Bernard Waber children's books, with Javier Bardem starring in the story of a singing crocodile and the young boy he befriends in New York City.
The film opened in the US and most international markets last October and has grossed $107.7m worldwide.
The Columbia releases come after the success in China of 20th Century Studios/Disney's Avatar: The Way of Water, which has grossed $245m in the territory, and openings last month for Disney and Marvel's Black Panther: Wakanda Forever and Ant-Man and the Wasp: Quantumania.
Earlier this week, Columbia sister label TriStar secured an April 14 date in China for The Woman King.