Adaptation of James Bowen's novel stars Luke Treadaway; set for release through Sony in 2016.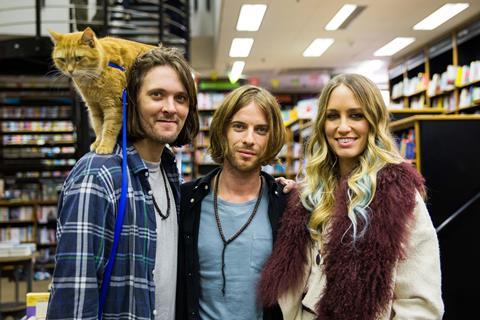 A Street Cat Named Bob, the film adaptation of James Bowen's bestselling novel, wrapped principal photography on Sunday (Dec 6).
Starring Luke Treadaway (Unbroken, Clash of the Titans), A Street Cat Named Bob tells the true story of the unlikely friendship between a young homeless busker and a stray ginger cat named Bob who changed his life.
Treadaway previously won an Olivier Award for Best Actor for his performance in the National Theatre's production of The Curious Incident of the Dog in the Night-Time.
Also starring Ruta Gedmintas (The Strain, The Incident) Joanne Froggatt (Downton Abbey, Filth) Anthony Head (Buffy The Vampire Slayer) and Bob the cat, filming took place over six weeks in London, mainly in Covent Garden where the two used to busk.
The film is directed by Roger Spottiswoode (Tomorrow Never Dies, Turner & Hooch), with a script from Tim John (Dr. Jekyll and Ms. Hyde) and Maria Nation (Ice Bound).
The film is produced by Adam Rolston for Shooting Script Films, marking the company's debut release.
Damian Jones is an executive producer alongside Tim Smith, Paul Brett, Anders Eden, and James Scott for Prescience.
Spottiswoode said: "It's been terrific to film in London again. We had a marvelous crew and have been able to use all the locations James Bowen writes about in his book. James and Bob came to help during production.
"Bob was not only stellar when playing himself but assisted his fellow thespians in every way possible. The film will be completed at Molinare."
Sony Pictures Releasing International (UK) will release A Street Cat Named Bob in the UK in 2016.
World sales agent is The Exchange.