Financier also backed Journey's End, Elstree 1976 and Swallows And Amazons.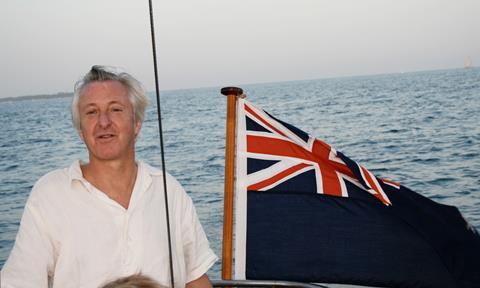 Christian Eisenbeiss, business mogul and film producer, has died at the age of 61.
As chairman of British Film Company, Eisenbeiss was an executive producer on Absolutely Fabulous: The Movie, Dad's Army, the Bafta-nominated documentary McCullin and Star Wars documentary Elstree 1976.
He was also an executive producer on upcoming projects including Saul Dibb's First World War drama Journey's End and Amma Asante's Where Hands Touch, which are both in post-production, and Spitfire, a documentary about the famous British military aircraft currently in production.
Another project, Trautmann, about the famed German goalkeeper who played for Manchester City, is scheduled to commence shooting in June.
Born in New York City on September 11, 1955, Eisenbeiss earned a master's degree in mathematics at Columbia University before embarking on a career as an investment banker.
After becoming the chairman of German beer company Holsten Brewery, succeeding his father, he built the company into one of the country's largest beer producers through multiple acquisitions, eventually selling the brewer to Danish outfit Carlsberg in 2004.
(L-R) Steve Milne, producer Nicky Bentham, writer-director Corinna McFarlane, producer Marc Samuelson, Barbara Broccoli and Christian Eisenbeiss in Cannes
In the spring of 2011, he became the chairman of British Film Company. Working with chief executive Steve Milne, Eisenbeiss executive produced more than 15 features including Middle East drama Zaytoun, which premiered at the 2012 Toronto International Film Festival, The Silent Storm with Eon Productions and family films Robot Overlords and Swallows And Amazons.
He is also an executive producer on Kate Brooks' conservation documentary The Last Animals which has its world premiere at Tribeca Film Festival on April 22.
In 2012, Eisenbeiss supported Milne's buyback of London post-production house Molinare after the company was placed into administration and owned a 46% share in the company. Molinare is currently posting Netflix's The Crown, Doctor Who and the Barbara Broccoli-produced Film Stars Don't Die In Liverpool.
In 2016, British Film Company titles Dad's Army and Absolutely Fabulous: The Movie were among the best-performing British films of the year, grossing $12m and $20m respectively.
A private funeral service was held for Eisenbeiss on Saturday (April 8) in Pine Plains, New York.
Said Milne: "Like a scene from a Tim Burton movie, Christian's friends and family gathered together to lay him to rest. He was my friend, my mentor, my co-conspirator, a brilliant mathematician and a master storyteller. He was a Big Fish – the real deal."