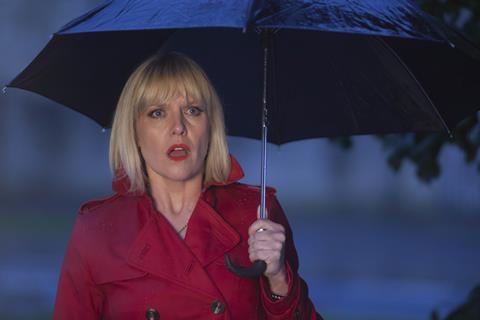 In its first series commission, North American streaming service Acorn TV is to co-produce a second season of British comedy-drama Agatha Raisin.
The service's UK-based development division Acorn Media Enterprises will co-produce the new season with Free@Last TV, which created the show, and Company Pictures. Free@Last's Barry Ryan and David Walton will continue to produce, with Michele Buck from Company Pictures remaining as executive producer and Guy Hescott as producer.
Acorn Media International will distribute Agatha Raisin in all English-speaking territories and All3media International will distribute across the rest of the world.
Based on the bestselling novels by M C Beaton, the series follows a London PR executive who becomes an amateur sleuth in a small Cotswolds village. The series originally aired in the UK in 2016 on Sky 1 – and got its North American premiere on Acorn the same year – but the UK broadcaster did not order a second season.
Ashley Jensen (pictured) will return in the lead role for the second series, which begins production in April for a premiere in late 2018. The series will be available internationally as three 90-minute TV movies or six 45-minute episodes.
Acorn Media Enterprises managing director Shane Murphy said: "We're thrilled to bring back our first original series as our first commission. When the UK broadcaster chose not to renew it, Acorn decided to step in and fully commission the show itself in order to keep this terrific series going for our subscribers. We're ecstatic to make it our first official full commission. We look forward to announcing several more commissions in the coming months."
Specialising in British TV but also offering programming from Ireland, Canada, New Zealand and Australia, Acorn is one of the branded OTT channels offered by RLJ Entertainment.