Danish director returns to the director's chair for the remake of his 2010 hit [pictured].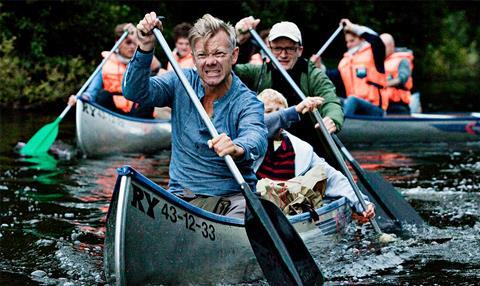 Sacha Baron Cohen revealed a little more detail on his upcoming Klown comedy remake in a Friday's buyers presentation hosted by Annapurna International that one buyer described as like sitting in on a comedy show.
The British superstar - who earned worldwide fame with Borat ten years ago - regaled attendees with a range of observations, including the sartorial tastes of some in the room, before turning to his remake of Mikkel Norgaard's 2010 Danish box office record-holder.
He rattled off a wish-list of A-list cameos for Klown that includes wife Isla Fisher and at least three of Hollywood's leading male actors – all of whom might be in contention for awards this season. None of the names had been officially attached at time of writing.
Norgaard will direct the remake and work closely with the notoriously hands-on Baron Cohen from an outline, which would appear to leave plenty of opportunity for improvisation.
Annapurna is financing and Megan Ellison will produce with Baron Cohen and Todd Schulman via their Four By Two production company, alongside Scott Stuber. CAA packaged the project and represents US rights.