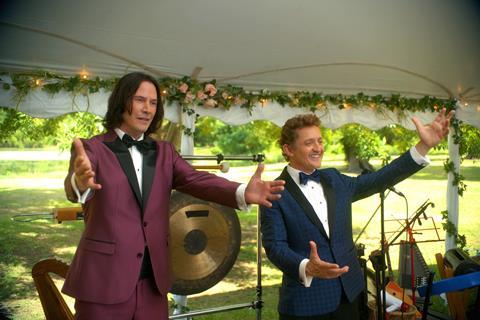 After five months of closure, Alamo Drafthouse will begin to reopen select cinemas on August 21 and announced it will be the first place in the world to screen Bill & Ted Face The Music.
The company plans to reopen roughly half its locations over the next two weeks and will present early free screenings of the third instalment in the 31-year-old comedy adventure from United Artists Releasing starring Keanu Reeves and Alex Winter on August 26.
Warner Bros' Tenet is scheduled to open on September 3. The early roster includes Fox's The New Mutants through Disney.
Alamo Drafthouse will reopen with safety protocols in place that include mandatory wearing of masks, limited capacity in auditoriums in compliance with public health guidelines, and enhanced cleaning in between presentations.
Classic films for August include the 10th anniversary of Inception, Back To The Future 1 and II, Bill & Ted's Excellent Adventure, Donnie Darko, and The Edge Of Tomorrow.
September screenings will honour the notion of masks and include Batman (1989), Spider-Man: Into The Spider-Verse, The Mask Of Zorro, The Silence Of The Lambs, Set It Off, and Mad Max: Fury Road.
Alamo Drafthouse will continue to offer films for rental or purchase through Alamo On Demand. Titles will include Bill & Ted Face The Music after its exclusive theatrical launch.