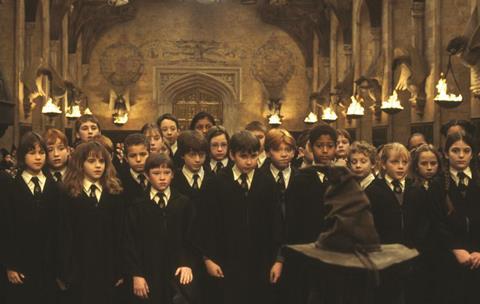 The weekend's release of Harry Potter And The Sorcerer's Stone in China has pushed the fantasy hit past the $1bn global box office mark 19 years after it debuted in cinemas across the rest of the world.
Warner Bros president of international distribution Andrew Cripps announced the milestone on Tuesday (August 18) days after a 4K 3D restoration of the fantasy hit opened in China (August 14) – where local audiences have been watching the film for the first time and the early running total has climbed to $17.1m.
The Sorcerer's Stone becomes the second entry in the franchise to cross $1bn after Harry Potter And The Deathly Hallows – Part 2 accomplished the feat in 2011 and reached $1.34bn.
To date the eight films in the fantasy series have amassed $7.74bn worldwide.
"We are thrilled to see Harry Potter And The Sorcerer's Stone delight a new generation of audiences," said Cripps. "The popularity of the film with moviegoers in China, who are discovering it for the first time, proves that the appeal of these stories is truly timeless and universal."
Chris Columbus directed from a screenplay by Steve Kloves, based on the J.K. Rowling book. Daniel Radcliffe, Emma Watson and Rupert Grint start in the all-star British ensemble.