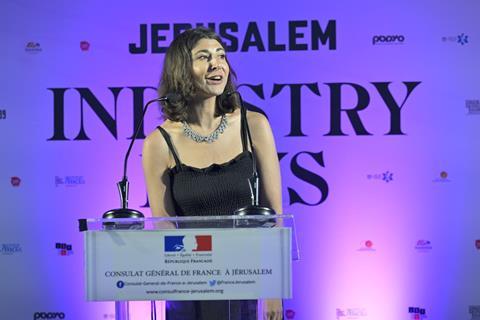 Zetjune, the upcoming second feature from Luzzu director Alex Camilleri, has won the Sam Spiegel International Film Lab Grand Prize on Saturday (July 23), at a joint ceremony in which Jerusalem Industry Days announced its Pitch Point winners.
Featuring real artists from the Maltese folk scene, musical Zejtune follows a 30-year-old woman whose life is reinvigorated by an encounter with an elderly troubadour.
Scroll down for the full list of winners
The $50,000 award was given to Maltese-US filmmaker Camilleri and his producers Rebecca Anastasi from Malta and Ramin Bahrami from the US.
Zejtune has an estimated $950,000 budget, with $47,350 already in place prior to the Lab through a Malta Film Fund development grant.
Having worked in the editing department including on Bahrami's 2015 drama 99 Homes, Camilleri's debut feature Luzzu launched at Sundance 2021, winning a Special Jury Award for Jesmark Scicluna's acting, with Camilleri receiving the Someone To Watch prize from the Film Independent Spirit Awards later that year.
The Sam Spiegel jury, led by Cannes Critics' Week artistic director Ava Cahen, said, "This is a project that blends styles and cultures through a musical road trip, offering the audience the discovery of a new world: a neorealistic musical."
Two projects received $10,000 Emerging Filmmaker awards: Aleeza Chanowitz's Elka's Not A Shiksa from Israel, and Mathieu Volpe's Red Gold from Belgium.
Five Israeli winners
Five Israeli features were awarded in the Jerusalem Industry Days Pitch Point selection, including Hadas Ayalon's family drama In A Minute You'll Be Gone, taking the €15,000 Jerusalem Foundation prize.
Ayalon's film, which has €300,000 of a €850,000 budget in place, centres on a middle-aged lesbian couple struggling with the loss of their son, when the biological mother starts the process of contacting his biological father.
Shai Carmeli Pollak's The Sea received the €15,500 post-production award, from a five-person jury including Tribeca and Les Arcs director Frederic Boyer.
The full Jerusalem International Film Festival continues until Sunday, July 31.
Sam Spiegel and Pitch Point winners
Sam Spiegel International Film Lab
Grand Prize: Zejtune (Malta) dir-scr. Alex Camilleri; prods. Ramin Bahrani, Rebecca Anastasi
Emerging Filmmaker award: Elka's Not A Shiksa (Isr) dir-scr. Aleeza Chanowitz; prod. Alona Refua; Red Gold (Bel) dir-scr. Mathieu Volpe; prod. Delphine Tomson
Jerusalem Pitch Point
Jerusalem Foundation Award: In A Minute You'll Be Gone, dir-scr. Hadas Ayalon; prods. Ayelet Kait, Amir Harel
Wouter Barendrecht – Lia van Leer Award: What Is To Come, dir-scr. Ruthy Pribar; prods. Yoav Roeh, Aurit Zamir
CineLab Post Production Services Grant: The Sea, dir-scr. Shai Carmeli; prod. Baher Agbariya
Edit & DB Post Production Services Grant: Real Estate, dir-scr. Anat Malz; prods. Ital Tamir, Ami Livne
Special mention: Eed, dir. Yousef Abo Madegem; scr. Yuval Aharoni; prods. Shlomi Elkabetz, Galit Cahlon