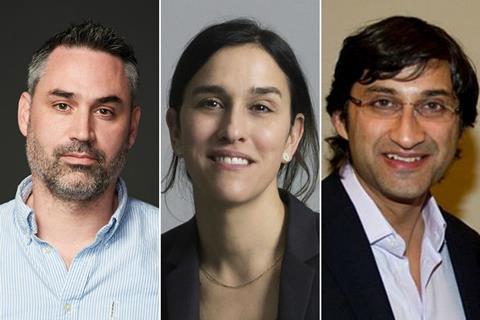 Directors Alex Garland, Sarah Gavron and Asif Kapadia are among top UK TV and filmmakers who will take part in a new £10m National Centre for Immersive Storytelling to be run by the UK's National Film and Television School (NFTS) and Royal Hollyway, University of London.
The new centre, known as StoryFutures Academy, is being funded by the UK government's so-called Industrial Strategy and is the biggest investment of its kind in VR in the UK to date. It aims to develop cutting-edge creative training and research programmes for the UK's creative workforce in all aspects of virtual, augmented and mixed reality technologies.
Led by co-directors Jon Wardle, director of the NFTS and James Bennett, a professor at Royal Holloway, the Academy hopes to be up and running by December 2018 and will incorporate experimental labs, workshops, placements and courses. It will also support and co-fund "dozens" of immersive productions.
"We think getting traditional film and TV makers of note engaged [in making immersive storytelling projects] is the clarion call needed to kickstart [VR in the UK]," explained Wardle. "And there aren't those examples in the UK. Who is working in the immersive space that people can look to and think, 'Wow if they can do it, i can do it?'…If you attach a name like Alex Garland [to a VR project] everyone wants to see it. That's how you unlock the money."
"We are going to try and move traditional film, TV and games makers into this [immersive storytelling] space," he said of the new StoryFutures Academy. "The first way we are going to do this is we are going to run labs, free, and invitation-only, where we will take a genre or a strand, like documentary, and invite in notable documentary makers."
The labs will show the filmmakers a highly-curated series of VR projects from around the world and invite their creators in to discuss subjects including what worked, what didn't and routes to market.
"At the end of those labs, say we've had 16 people, I imagine five or six of them will say 'I never want to put a VR headset on again. I'm very happy sticking to traditional film and TV'," said Wardle. "But there will be others who will have been inspired enough to do more. We'll have about £500,000 to spend on making [new immersive projects].
To help co-fund the new projects StoryFutures Academy is working with partners including the BFI and Doc Society.
"In our BFI 2022 strategy we made a commitment to the more expansive nature of filmmaking and storytelling," said Ben Roberts, deputy chief executive of the BFI, who will sit on the steering board of the Academy. " We've rewritten all of our Lottery funding guidelines in order to be able to, as much as anything, not miss the wave. From both an audience and a practiioner's side, there is an engagement with technology-based moving image which is here to stay."
"I'd love to try out some things"
Gavron, the award-winning director of Brick Lane, Suffragette and the upcoming Girls Unitled revealed she has never seen a VR film.
"VR for me is still a mysterious unknown quantity but in the same way that when I was at film school digital came in and it changed the whole way you edited and it changed the way you conceived storytelling, now I feel [VR] is the next step," she said. "I am essentially a storyteller and interested in communicating an emotion and a feeling to an audience. And anything helps to do that or reaches people is intriguing. But you need a lab for it. I'd love to try out some things.
"As a filmmaker I feet I am always learning," she continued. "I just did this film with young girls [Girls Untitled] and they were constantly on their phones. What I realised through that process is that they are filmmakers now and they are recording their lives in all sorts of forms and they are using technology and that is influencing how they are recording their lives. One week they are obsessed with recording everything in slow motion and another week they are obessed with recording eveyrhtiing in time lapse! I'm really interested in the way that affects the way we tell stories. I was constantly thinking through making this film, 'what is the new form of storytelling through the influence of social media and iPhones?'"
Winning bid
The NFTS and Royal Holloway, University of London were the winning bidders of a competition to run the new centre. It was held by UK Research and Innovation, a new UK-wide body which works in partnership with universities, research organisations, businesses, charities, and government to create the best possible environment for research and innovation to flourish. It has a combined budget of £6bn.
The Centre is a key element of the £33m Audience of the Future programme, part of the UK governmet's Industrial Strategy Challenge Fund. The bid was supported by leading UK film and TV figures including actor, writer and director Lenny Henry, actor Georgina Campbell, TV writer and producer Steven Moffat, TV producer Sue Vertue of Hartswood Films, PACT chief executive John McVay, UKIE CEO Jo Twist, BSAC's chief executive Pete Johnson, as well as Garland, Gavron and Kapadia. Bal Samra, BBC Group commecial director, will chair the steering board of the new Centre.
"I'm so excited to be working with the Centre," said Kapadia in a statement." I'm looking forward to getting my hands on the equipment, having a play, making mistakes and experimenting to understand how immersive technologies can be used to push boundaries and create compelling stories in drama, documentary, short films, long form or gaming."
The bid was also supported by BFI, Sky, Punchdrunk, UK games fund, Imaginarium Studios, Rewind VR, McCann Erickson, Sony Interactive Entertainment, HTC Vive, Digital Catapult, Screen Skills, PACT, UKIE and BSAC.
Andrew Chitty, challenge director of Audience of the Future, announced the new Centre during a speech at the Raindance Film Festival in London today (October 4).
"The UK has an opportunity to lead the world in adopting immersive technology to find new audiences and create ground-breaking content," said Chitty. "But to do this we need to develop our creative talent to make the best of this new medium. StoryFutures Academy is an exceptional partnership that brings together exceptional researchers, a world-class film school and partners across the industry who will not only support the centre but gain the benefit of its graduates."
"Storytelling at the heart of immersive"
Training will take the form of placements, including intensive training 'boot camps' for established screen industry practitioners, experimental labs, work experience placements and shadowing opportunities. After a year of learnng from experimental labs, NFTS and Royal Holloway will then offer five to six short courses available at a range of locations in the UK. Both institutions will launch Masters provision in a range of immersive specialisms.
StoryFutures Academy will also offer paid placements for experts in a range of fields in traditional screen sectors to work with immersive companies. The NFTS will use its reputation in traditional film, TV and games areas to engage a whole new group of people to ensure storytelling is at the heart of immersive, drawing on Royal Holloway's world-leading research base to inform and capture the interventions made.
The Academy has diversity targets that committ it to ensuring its participants are 50% female and 20% BAME.
"We are absolutely going to make sure we don't replicate the problems of the past in this new discipline," said Wardle. "This is an opportunity to create a cadre of people who are really diverse."