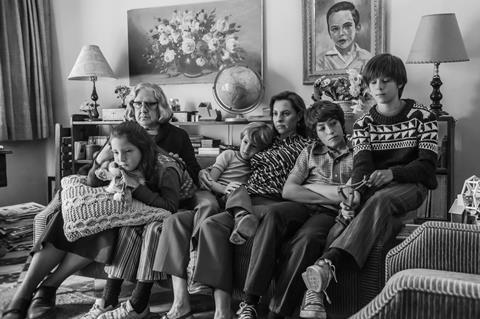 The Directors Guild Of America (DGA) has nominated Alfonso Cuarón, Bradley Cooper, Spike Lee, Peter Farrelly and Adam McKay for its Outstanding Directorial Achievement in Feature Film for 2018 – a group that contains no women despite acclaimed work from Debra Granik, Marielle Heller and Karyn Kusama.
Tuesday's (8) nominations immediately bolsters the contenders' prospects of earning an Oscar nomination as the DGA is a strong indicator of Academy Awards voting.
Cuarón is regarded among the industry as the front-runner for ROMA and has been nominated once before when he won for Gravity in 2013 en route to Oscar success.
Cooper earned two nods on Tuesday including one in the first-time feature film category for A Star Is Born. These are the first DGA nods for BlacKkKlansman director Lee and Green Book's Farrelly, while Vice director McKay previously received a nod for The Big Short in 2015 and was nominated on Monday in the dramatic series category for Succession.
In the first-time directing category, Bo Burnham made the cut for Eighth Grade, while Matthew Heineman is included for A Private War, and has won the DGA twice before for his documentaries City Of Ghosts in 2017 and Cartel Land in 2015.
"To be chosen by one's peers in a year full of such extraordinary films is the true mark of outstanding directorial achievement," said DGA president Thomas Schlamme. "In bringing all elements of the filmmaking process together, each of these directors has demonstrated an exceptional command of the medium, creating excellence for the screen. Congratulations to all of the nominees."
The DGA announced nominees for television, commercials and documentary on Monday. Winners in all categories will be announced at the 71st Annual DGA Awards on February 2 in Hollywood.
Outstanding Directorial Achievement in Feature Film
Bradley Cooper, A Star Is Born
Alfonso Cuarón, ROMA
Peter Farrelly, Green Book
Spike Lee, BlacKkKlansman
Adam McKay, Vice
Outstanding Directorial Achievement in First-Time Feature Film
Bo Burnham, Eighth Grade
Bradley Cooper, A Star Is Born
Carlos López Estrada, Blindspotting
Matthew Heineman, A Private War
Boots Riley, Sorry To Bother You.