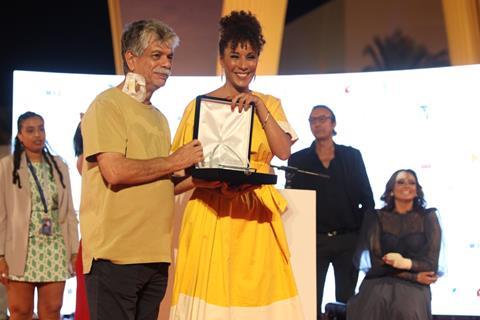 Algerian filmmaker Sofia Djama's unwanted pregnancy drama A Quarter To Thursday In Algiers and Palestinian-US filmmaker Hind Shoufani's feature documentary work They Planted Strange Trees have scooped the top prizes at the CineGouna Platform.
Running October 16-21, within the framework of the El Gouna Film Festival, the platform's CineGouna Springboard component showcased 20 projects in development and post-production.
The jury comprised Lebanese producer and film critic Mohamed Soueid, Nina Lath Gupta, the former managing director of India's National Film and Television Development Corporation (NFTC) and Moroccan director and screenwriter Ismaël Ferroukhi.
A Quarter To Thursday In Algiers won the $15,000 CineGouna award for best project in development. Djama's second feature after The Blessed, the feature revolves around a woman whose plans to deal with an unwanted pregnancy are derailed by other life events.
They Planted Strange Trees, exploring the complexity of what it means to be a Palestinian Christian living in the now Israeli region of Galilee today, won the $15,000 post-production prize.
The jury also gave a special mention to Egyptian director Bassam Mortada's feature documentary Abo Zabaal 1989, delving into the impact on his family and the ongoing legacy of his activist father's political arrest.
Sponsored prizes
There were also a raft of collateral sponsored prizes worth $270,000 in total.
Within these, A Quarter To Thursday In Algiers also won $2,000 worth of services from Clackett, an online platform connecting cinema professionals, while They Planted Strange Trees won $10,000 from Egyptian screenwriters hub Indie Deer.
Other big winners of sponsored prizes included Egyptian director Yomna Khattab's documentary Fifty Meters exploring what it means to get old through the prism of her elderly father's newfound love of water aerobics.
It won a $10,000 film promotion package from Cairo post-production house The Cell Post Production, a $10,000 cash grant from Egyptian VFX studio Trend VFX, $10,000 from production company Synergy Films, a $15,000 cash grant for script development by celebrated screenwriter Mariam Naoum from the Sard Writing Room, $5,000 worth of post-production services from BEE Media Productions, $10,000 worth of post-production from Cult, $1,000 worth of locations services from Clackett, and a $7,000 Master's Degree US scholarship from investment fund Gemini Africa.
It also won an invitation to attend Rotterdam Film Lab, organised and offered by the Arab Cinema Center.
Moroccan filmmaker Hicham Lasri also won prizes for the two projects he presented at the platform.
His work in progress Haysh Maysh: False Drama (Morocco) won a $30,000 minimum guarantee for distribution from MAD Solutions and Ergo Media Ventures and a $5,000 cash grant from Malmö Arab Film Festival. His second project Happy Lovers, which is in development, won a $10,000 cash grant from the media arm of Saudi group Rotana.
In other sponsored prizes, Jordanian filmmaker Zain Duraie won a $10,000 prize from Arab Radio and Television Network (ART) for her upcoming project Sink, exploring attitudes to mental health in the Arab world through the tale of a mother in the midst of a midlife crisis whose son falls into depression.
Egyptian filmmaker Morad Mostafa's drama Aisha Can't Fly Away Anymore, about a young Somali woman working as a carer for the elderly in a Cairo, won a $5,000 cash grant from Gemini Africa, $3,100 worth of services from The Cell Post Production and was selected for the Global Film Expression initiative of the International Emerging Film Talent Association (IEFTA).
Baghdad-based filmmaker Zahraa Ghandour's Women Of My Life, exploring violence against women in Iraq, won a US $10,000 cash grant from Maqam Production Films and was also selected for IEFTA's Global Film Expression initiative.
Egyptian filmmaker Sara Shazli feature documentary Searching For Woody, about her search for a beloved childhood nanny, won a $5,000 cash grant from BEE Media Productions and $2000 worth of services from Clackett.
Talal Derki and Ali Wajeeh's feature documentary A Song for Summer and Winter won a $50,000 cash grant per sale from Middle East satellite provide OSN and a $10,000 full DCP package from The Cell Post Production. It follows the efforts of a group of Syrian women, whose lives have been upturned by the war, to write and put on a play capturing their experiences.
Iraqi filmmaker Ahmed Yassin Al Daradji's Hanging Gardens, about a young rubbish picker who rescues a sex doll from a Bagdad dump, won $30,000 worth of services from Mercury Visual Solutions.
Lebanese director Reine Razzouk's documentary Hyphen, exploring womanhood, generational trauma in Lebanon through the lens of a recovering heroin addict and her filmmaker cousin, won a US $10,000 cash grant from Clackett.
Egyptian director Mohamed Siam's father-son drama My Father's Scent won a $10,000 cash grant from post-production service New Black, while Iraqi director Ali Al-Fatlawi's The Blind Ferryman - Al Baseer, about a man who falls for a mysterious woman nobody believes exists, won $5,000 worth of post-production services by Hecat Studio.
Launched in 2017, at the same time as its parent El Gouna Film Festival, the platform has now supported some 100 projects to date with past participants including Lebanese director Ely Dagher's 2021 Cannes Critics' Week selection The Sea Ahead and Costa Brava, Lebanon by Mounia Akl which recently debuted in Venice.