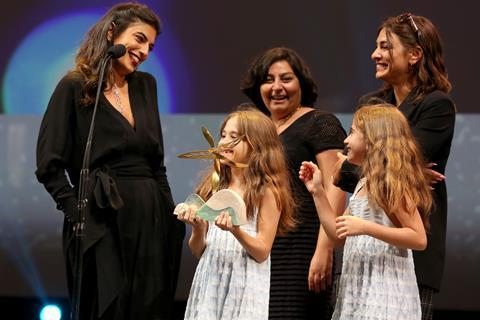 Finnish director Teemu Nikki's dark comedy-drama The Blind Man Who Did Not Want To See Titanic scooped the El Gouna Film Festival's $50,000 Golden Star award for best narrative film over the weekend.
Its star Petri Poikolainen also won best actor for his performance as a blind man who ventures out of his small apartment and onto the streets to travel by train to spend time with his long-distance girlfriend.
The film world premiered in Venice's new Horizon Extras where it won the audience award.
The $25,000 Silver Star went to Brazilian director Michel Franco's kidnap drama Sundown while Russian manhunt tale Captain Volkonogov Escaped, by Aleksey Chupov and Natasha Merkulova, won the $15,000 Bronze star.
Best actress went to big-screen debutant Maya Vanderbeque for her performance as a girl whose brother is being bullied at school in Belgian director Laura Wandel's drama Playground.
Best Arab narrative feature went to Egyptian director Omar El Zohairy's drama Feathers, which was at the heart of a local media storm for most of the festival after a group of veteran filmmakers walked out of its competition screening, complaining it portrayed Egypt in a bad light.
A total of 16 films were screened in this year's narrative feature competition. The jury was headed by US producer Rob Allyn and also comprised Indian director Kabir Khan, Egyptian actress Menna Shalaby, Guanajuato International Film Festival founder and executive director Sarah Hoch and Lebanese director and producer Georges Hachem.
Documentary competition
In the feature documentary competition, Guatamalan, Russian-based director Renato Borrayo Serrano's Life Of Ivanna won the $30,000 Golden Star for best feature documentary.
The tale of a nomadic reindeer herder and mother of five, who swaps the wilds of the tundra for a new life in the Siberian city of Norilsk recently also won best documentary in Zurich.
There were 10 feature documentary contenders. Mexican producer Martha Sosa presided over the jury which also featured former Busan International Film Festival director Jay Jeon, US director and producer Kim A. Snyder, Jordanian-Dutch filmmaker Mahmoud Al Massad and Palestinian producer May Odeh.
The $15,000 Silver Star in the category went to Russian and Swiss directorial duo Svetlana Rodina and Laurent Stoop's Ostrov – Lost Island, about a forgotten island fishing community in decline in the Caspian Sea and the $7,500 Bronze Star was won by Higor Hirori's Sabaya following the efforts to free Yezidi teenage girls and women kidnapped by ISIS.
The $10,000 prize for best Arab documentary feature was scooped by Egyptian director Ali El Arabi's Captains of Za'atari about two talented Syrian teenage soccer players, growing up in a refugee camp in Jordan, who head to Qatar to pursue their dreams of soccer stardom.
A special mention went to Ukrainian filmmaker Alina Gorlova's The Rain Will Never Stop about a Syrian family scattered across the Middle East and Europe by their country's civil war.
Other prizes
In other awards, the NetPac award went to Captain Volkongov Escaped while Once Upon A Time in Calcutta by Indian director Vikram Sengupta received a Special Mention.
Lebanese director Mounia Akl's Costa Brava, Lebanon won the Fipresci award as well as the $10,000 inaugural Green Star aimed at films that raise awareness around issues related to the environment, ecology or wildlife.
The festival's $20,000 Cinema For Humanity award for films exploring humanitarian issues went to Ostrove: Lost Island.