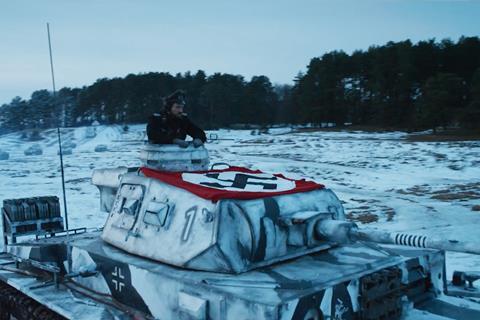 Altitude Film Distribution has acquired UK rights to $10m Russian tank movie T-34 from Moscow-based sales agent Mars Media. In the wake of the AFM, Mars Media has also sealed deals with Gulf (Middle East), Twin Co (Japan), Movie Cloud (Taiwan) and Minvera (Itay).
These follow deals already announced for Germany (Tiberius), Spain (Mediaset), Benelux (Dutch Film Works), Baltics (Garsu) and Korea (Korea Screen.) A French deal is expected to be concluded imminently.
Written and directed by Alexey Sidorov, T-34 in set 1941 during the height of the Second World War. It is about the commander of a T-34 tank who is on a mission to destroy a dozen German tanks all by himself. The film's producers include Len Blavatnik, Ruben Dishdishyan and Nelly Ya Ralova. The high-profile Russian cast is headed by Aleksandr Petrov, Viktor Dobronravov, Irina Starshenbaum, Vintsents Kifer, and Nikita Kukushkin
Central Partnership is releasing the film in Russia on a very wide 2,000 screens in late December.
In the wake of the AFM, Mars Media is also reporting strong international interest in Sabre Dance, a biopic of Aram Khachaturyan, the celebrated Soviet-Armenian composer who wrote his most famous piece - ballet music Gayane - in the middle of the Second World War. New Select has now taken Japanese rights to the movie.