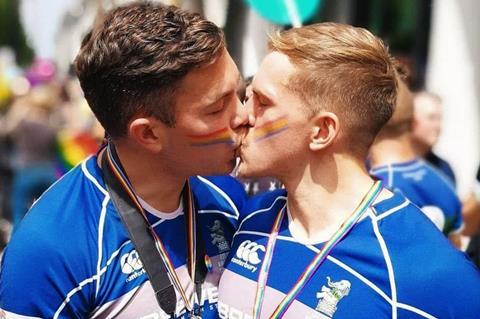 Amazon has secured UK and Ireland rights to Eammon Ashton-Atkinson's Steelers and will launch it exclusively on Prime Video.
The documentary, which centres on the world's first gay and inclusive rugby club, will be made available on the streaming platform from April 16.
The Amazon deal was secured directly with Australian director Ashton-Atkinson and Republic Film Distribution's Zak Brilliant, who serves as executive producer on the film.
Originally scheduled to debut at last year's BFI Flare: London LGBTIQ+ Film Festival before its cancellation, the documentary received its world premiere at New Zealand International Film Festival and UK premiere at Glasgow Film Festival last month.
The film follows the players and coach of the Kings Cross Steelers as they journey to overcome personal struggles and compete against 60 other gay clubs in the Bingham Cup in Amsterdam – the World Cup of gay rugby.
It marks the directorial debut for Australian journalist and former Steelers player Ashton-Atkinson, who also wrote, filmed, edited and narrated the feature. In addition, Ashton-Atkinson produced the film with support from fellow Australian journalist Grace Tobin and Steelers player Jared Watmuff.