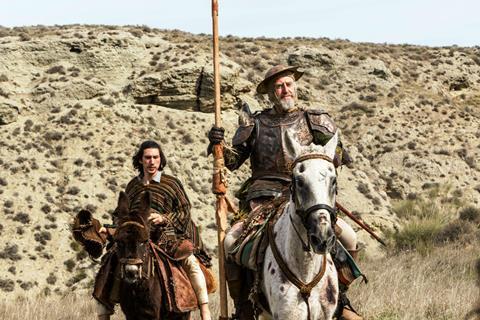 Screen has confirmed that Amazon Studios no longer holds US rights to The Man Who Killed Don Quixote.
It is understood the studio pulled out of the beleaguered feature a month ago.
Terry Gilliam's long-gestating film is currently set to close the Cannes Film Festival on May 19, after an injunction filed by producer Paulo Branco failed in the French courts today.
The move was the latest twist in a bitter legal battle over who owns the rights to the film between Branco and Gilliam and producers at Paris-based Kinology and Madrid-based Tornasol Films on the long-gestated production, for which a final hearing had been set in the Paris courts for June 15.
Branco says the rights to the film belong to his Paris-based sales company Alfama Films Production.
Speaking at a press conference at the Alfama sales booth in Cannes film market ahead of the verdict, Branco claimed Amazon dropped out of the production after Kinology, Tornasol Films and Carisco Producciones were unable to show they had resolved the dispute with Branco.
"It was revealed today that Amazon is no longer involved in the production of the film. I would not like to be in the place of the people currently producing the film because it means they now have a €1.5m hole in the budget," said Branco.
He revealed that Amazon's lawyers had written to Kinology, Tornasol Films and Carisco Producciones on Feb 14 demanding clarification over the rights situation for the film, following court hearings in London and Paris which ruled in Branco's favour.
"They gave them until April 5 to find a solution with Alfama," said Branco. "It was very clear to them [Amazon] that the rulings in London and Paris were in Alfama's favour, meaning that we held the irrevocable option rights for the screenplay and the director and that if a solution was not found by April 5, they would withdraw."
Branco, who distributed copies of the letter written by Amazon's lawyers at the press conference, said: "Amazon withdrew because the rights belong neither to Kinology or Tournasol."