Plus: Top Gun, Ghostbusters make it on to National Film Registry; The Club, Jauja among Cinema Tropical nominees; and more…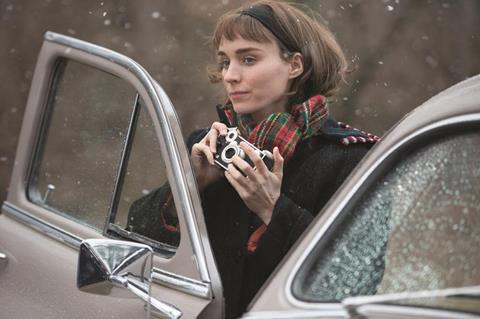 The Austin Film Critics Association has nominated Carol for seven awards including best picture, best director for Todd Haynes and best actress for Cate Blanchett and Rooney Mara. Winners are announced on December 29.
The Club, Jauja, Los Hongos, The Princess Of France and White Out, Black In are nominated for best film in the 6th Annual Cinema Tropical Awards. Winner will be announced in New York on January 20, 2016. For the complete list of nominees click here.
Top Gun and Ghostbusters are among the 25 films named to the National Film Registry of the Library Of Congress. Other new entries on the 675-strong roster of America's cinematic heritage include The Shawshank Redemption, Being There and the 1931 Spanish-language version of Dracula. For the full list click here.
Chadwick Boseman will star as attorney Thurgood Marshall in courtroom thriller Marshall, which Django Unchained producer Reginald Hudlin will direct. China-based Super Hero Films finances the project and Paula Wagner produces via her Chestnut Ridge Productions label alongside Hudlin, Jonathan Sanger and Super Hero Films' Jun Dong.
Universal Pictures has moved back Monster High from its original date of October 7 2016 –now occupied by the Amblin Partners film The Girl On The Train starring Emily Blunt, Rebecca Ferguson and Justin Theroux. The musical Monster High based on the Mattel franchise will open at a later date.
The Producers Guild of America are to give the 2016 Stanley Kramer Award to documentary The Hunting Ground. Kirby Dick directed the campus rape film and the PGA awards ceremony takes place in Los Angeles on January 23, 2016.
Dennis Hauck's noir Too Late starring John Hawke will open exclusively on 35mm in the spring. Matt Miller produced with and they partner on the release with mTuckman Media and Alamo Drafthouse Cinemas starting on March 18, 2016. Content Media handles international sales.
Canadian performers will honour Neve Campbell with the 2016 ACTRA National Award Of Excellence in Los Angeles on January 31, 2016. The award recognizes an ACTRA member's career achievements and contribution to their fellow performers and Canada's entertainment industry.
Filmrise has acquired US and Canadian home media rights to sports documentary Palio from Archmedia, writes Jeremy Berkowitz. The Brooklyn-based distributor released the DVD and Blu-ray version of the Tribeca 2015 premiere on December 15. Palio follows high stakes and machismo at the world's oldest horse race in the Italian city of Siena.