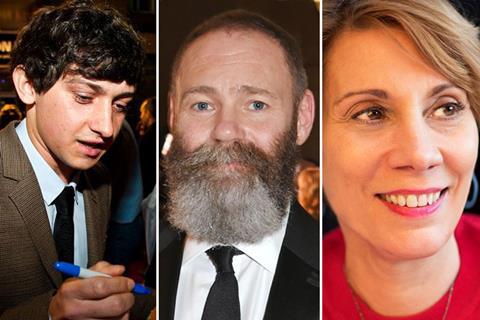 Francis Lee's drama Ammonite and the Doc Society have received two of the biggest funding awards from the various pots administered by the British Film Institute (BFI)'s Film Fund in the fourth quarter of the financial year 2018-2019, which ran from January 1-April 5, 2019.
Ammonite, produced by See-Saw Films and Fodhla Cronin O'Reilly, and starring Kate Winslet and Saoirse Ronan, is an 1840s-set story of the intense relationship between a female fossil hunter and a young woman. It is now in post-production.
The BFI awarded the film a £1.3m production grant in February and a further £20,000 ahead of its shoot in the UK in March. It had previously received a £40,000 pre-production grant and two development grants worth £17,000 and £42,500, bringing the BFI's total contribution to £1.4m.
Lee previously made God's Own Country, which was backed by the BFI with £515,620 in production finance and further amounts to support its sales (via Protagonist Pictures) and UK distribution (Picturehouse Entertainment).
Further BFI production awards this quarter went to Craig Roberts' second feature as a director, Eternal Beauty (£50,886), which is produced by Adrian Bate of Cliff Edge Pictures; Chino Moya's tragicomic science-fiction film Undergods (£49,937), which is a co-production between the UK's Venner Film, Belgium's Velvet Films and Estonia's Homeless Bob, and was also backed by Screen Brussels; and Jessica Swale's Summerland (£14,307), from producers Guy Heeley of Shoebox Films and Adrian Sturges.
Those three awards are all top-ups following previous significant production grants: Eternal Beauty received awards worth £732,500 and £50,000 in February and March 2018; Undergods received grants worth £707,000 and £35,000 in December and November; Summerland previously received £850,000 and £35,000 in July.
Of the awards in Q4 18/19, one of four recipient directors were women. However, across the entire last financial year, of the top 10 BFI production awards given to films, five were directed by women. None of the recipients for production awards were from BAME backgrounds in this quarter, but there was greater representation across the full year. The BFI will publish full statistics for its Film Fund awards in 2018/19 in the coming weeks.
The BFI Film Fund awards funds from the UK's National Lottery.
Distribution awards
The largest single distribution award (£250,000) was awarded to Altitude Film Distribution to support two of its releases: Jonah Hill's feature directing debut Mid90s, which has taken £197,529 to date in the UK, and Brian Welsh's Scotland-set 90s rave film Beats, which is out on May 17.
Further distribution awards went to Thunderbird Releasing for The Kindergarten Teacher (£82,000, gross to date of £206,378); Curzon's Girl (£75,000, gross to date £51,520); Vertigo's Thunder Road (£55,000, out May 31); and Dogwoof's Maiden (£30,000, grossed £89,003 to date).
Organisational awards
The BFI Film Fund also awarded two significant grants to the Doc Society totalling £1.7m. That figure is in line with the increased funding commitment from the BFI to the initiative, announced in November 2018, and covers a period of 18 months. Doc Society was awarded the tender to administer a fund to back documentaries, as well as outreach and training initiatives in March 2018, effectively taking over the documentary activities of the BFI Film Fund.
Further organisational awards went to: the British Film Commission for 19/20 (£575,000); the Independent Cinema Office for its national activities (£574,499); Nottingham Media Centre to deliver two cross Film Audience Network programmes of events/screenings (£440,000); The Phoenix Cinema and Art Centre in Leicester (£220,000); UK documentary festival Sheffield Doc/Fest (£210,000); Bristol's The Watershed (£195,000); Manchester's Home (£185,000); and the British Federation of Film Societies (£157,670).
The UK's Film Hubs also received their annual grants: Film Hub North (£460,000); Film Hub Midlands (£365,000); Film Hub South East (£350,000); Film Hub South West (£280,000); Film Hub Scotland (£225,000); Film Hub Northern Ireland (£210,000); Film Hub Wales (£210,000); and Film Hub London (£200,000).