Horror sequel is set to cross $100m worldwide, while War For The Planet Of The Apes aims for $200m internationally.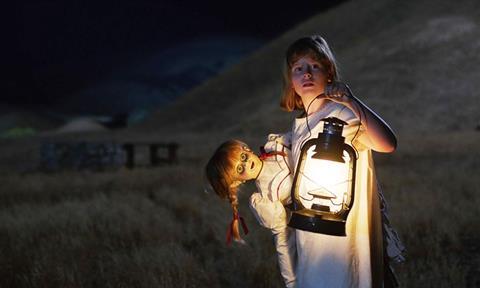 Annabelle: Creation stands at $53.6m through Warner Bros Pictures International. The horror sequel has reached $99.6m worldwide as it heads into Brazil and Mexico this weekend.
Annabelle: Creation posted the biggest opening day ever for a Hollywood horror film in Hong Kong last week. 2014's Annabelle grossed $117.2m internationally, which accounts for more than 67% of its worldwide total.
Christopher Nolan's Second World War action drama Dunkirk stands at $218.1m as it enters its fifth session through Warner Bros Pictures International. The film has reached $375.7m worldwide.
Wonder Woman has reached $395.9m and stands at $798.7m worldwide. Patty Jenkins' tentpole crossed $400m in North America early last week, and is on the verge of crossing that same mark internationally, which it should do following its debut in Japan next week. King Arthur: Legend Of The Sword stands at $107m.
Fox International's War For The Planet Of The Apes looks to cross $200m as it opens in South Korea this week. Matt Reeves' action film has reached $184.8m.
In South Korea, 2014's Dawn Of The Planet Of The Apes earned a total of $30.6m, while 2011's Rise Of The Planet Of The Apes earned $17.3m.
The third instalment of the Planet Of The Apes franchise is far behind the international performance of its predecessor, 2014's Dawn Of The Planet Of The Apes, which earned $502.1m at the international box office.
Fox has several major markets left to open, including China on September 15, which was Dawn's highest grossing territory outside of North America on $107.4m.
Captain Underpants: The First Epic Movie stands at $21.7m as it opens in six territories this weekend, including Argentina and Colombia. Alien: Covenant stands at a dismal $158.5m.
Illumination's Despicable Me 3 has grossed $935.1m worldwide and $685.8m internationally through Universal Pictures International.
The Despicable Me franchise, which includes Minions, is now the highest grossing animated franchise of all time globally on more than $3.595bn.
Charlize Theron spy thriller Atomic Blonde stands at $8.5m and is set to debut in six more territories this week, including France and Italy.
The Mummy has reached $325.3m internationally and $405.4m globally, Sofia Coppola's The Beguiled has grossed $5.4m as it debuts in Spain and Egypt this week. Girls Trip has reached $9.3m.
Sony Pictures Releasing International's Spider-Man: Homecoming has earned more than $400m internationally, placing Tom Holland's web-slinger within reach of The Amazing Spider-Man 2's $506.1m international haul.
Homecoming will see a big boost in its international gross when it debuts in China on September 8; The Amazing Spider-Man 2 grossed $94.4m there.
Idris Elba and Matthew McConaughey action-adventure The Dark Tower stands at $56.3m and opens in the UK, Australia and Spain over the weekend, while Baby Driver debuts in Japan this weekend on $19.3m.
Walt Disney Studios Motion Pictures International's Pirates Of The Caribbean: Dead Men Tell No Tales has amassed $616.6m with all territories opened. The film will end its international run nearly $188m short of On Stranger Tides' $804.6m international tally.
Cars 3 has amassed $154.7m and opens in Indonesia and some small territories this weekend.
Paramount Pictures International's Baywatch stands at $118.9m, while Transformers: The Last Knight has reached $468.3m.
Lionsgate International's The Glass Castle, which reunites Brie Larson with her Short Term 12 director Destin Daniel Cretton, debuted last weekend on an early $58,200.