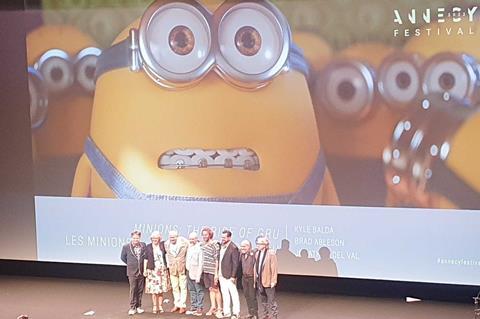 The 46th Annecy International Animation Festival covered disparate bases in its opening ceremony on Monday (June 13) with a tribute to the people and filmmakers of Ukraine followed by the world premiere of Universal's Minions: The Rise Of Gru.
"We give our support to the Ukrainian people," said Annecy mayor Dominique Puthod, who also offered his solidarity to the country's film industry.
Puthod then introduced Heavenly Hundred, a 2021 Ukrainian short film by Daryna Zghurovets. Set in 2022 on the eighth anniversary of the Revolution of Dignity, it sees a young child try to draw impressions of the events that took his father's life.
Separately, there were several calls to the importance of theatrical releases for animation titles, with Annecy artistic director Marcel Jean – host for the evening – telling attendees that "animation cinema is more dynamic than ever before".
Puthod echoed these words, saying the festival is "all the pleasures of cinema, in a cinema hall," and describing the event as "a fire of artifice, creativity and change".
Cannes general delegate Thierry Fremaux was among the guests. Jean dedicated the festival to Giannalberto Bendazzi, the Italian animation historian, professor and writer who died last December aged 75.
Minions, eventually
Jean also introduced Chris Meledandri, founder of Illumination, the animation studio that he co-owns with Universal, and is behind the Minions franchise. Meledandri was another to reinforce the importance of the cinema experience, thanking Universal Filmed Entertainment Group head Donna Langley "for holding [The Rise Of Gru] until a point where audiences were back in the cinema, where it was made to be seen".
The Rise Of Gru had its long-awaited world premiere following the opening addresses, ahead of the global release later this month. It was originally scheduled for July 3, 2020, but was delayed due to the pandemic, first to July 2, 2021, then to its current slot.
It is a sequel to 2015's Minions, which itself is a spin-off of Universal's popular Despicable Me series. Set in the 1970s, the film follows the origins of Steve Carell-voiced character Gru, who steals a precious stone from a group of supervillains known as the Vicious 6.
Taraji P. Henson, Michelle Yeoh, Jean-Claude Van Damme, Dolph Lundgren, Julie Andrews, Russell Brand and Lucy Lawless lead the voice cast alongside Carell, with French animator Pierre Coffin reprising his voice role as the titular Minions.
Minions grossed $1.2bn worldwide in 2015 for Universal of which $336m came from North America.
Earlier on Monday the festival's studio presentations got off to a raucous start with Sony Pictures Animation showing new footage and revealing new cast for Spider-Man: Across The Spider-Verse.