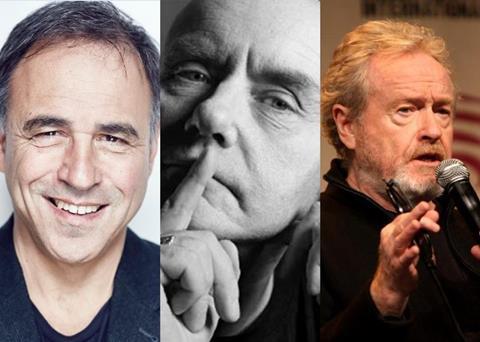 Anthony Horowitz, Irvine Welsh and Ridley Scott projects are spearheading UK SVoD BritBox's debut drama slate.
The BBC and ITV joint-venture has ordered a trio of crime adaptations from the high-profile authors, along with a Patrick Spence (Fortitude) project, as it moves into high-end scripted programming for the first time.
Set to air across 2021 and 2022 with several of the series lengths yet to be determined, the calibre of the talent secured underlines the extent of BritBox's scripted ambitions.
The Beast Must Die, from Ridley Scott's Scott Free and New Regency Television, is expected to be the first to enter production later this summer with Chernobyl's Jared Harris poised to star. Based on the novel by Nicholas Blake, the five-parter will tell the story of a grieving mother who infiltrates the life of the man she believes killed her child.
Shetland screenwriter Gaby Chiappe is adapting the novel, with Scott Free's Marina Brackenbury and David W Zucker and New Regency's Ed Rubin and Emma Broughton exec producing. Brackenbury said it is an "intensely emotional and thrilling" story.
Scottish novelist Irvine Welsh is to adapt his 2008 novel Crime as his first TV drama. The six-parter, which will be distributed by Cineflix, centres on detective inspector Ray Lennox, who investigates the disappearance of a schoolgirl while recovering from a mental breakdown. Welsh described Lennox as a "compelling character".
He added: "Don't expect a run of the mill cop show."
Marcella-producer Buccanneer Media is producing, with Welsh and his long-term screenwriting partner Dean Cavanagh executive producing alongside Richard Tulk-Hart and James Strong.
Meanwhile Anthony Horowitz's murder mystery novel Magpie Murders is to be adapted by Safe House producer Eleventh Hour Films. Co-produced with US broadcaster PBS via its scripted strand Masterpiece, it follows an editor who is given an unfinished manuscript which changes her life.
Horowitz said his most successful novel was tricky to adapt. "But the result is a completely original drama that will delight and beguile," he added.
Finally BritBox is understood to have tied with US streamer Spectrum for espionage thriller A Spy Among Friends, to be produced by ITV Studios' Patrick Spence (Fortitude). The drama is based on the novel by Ben Macintyre, whose SAS: Rogue Heroes is being adapted for BBC1 by Kudos.
ITV director of television Kevin Lygo, who is leading BritBox UK originals said: "BritBox stands for the best of British and with this high calibre slate of original drama commissions, we are bringing the very best of UK creative talent to a UK streamer for the first time."
BritBox's global chief creative and brand officer Reemah Sakaan added the service's shows must be "bold, bingeable and distinctly British".
The streamer entered the originals space earlier this year with a double series revival of iconic British satire series Spitting Image from Avalon in March. Slated to launch later this year, the show will features the likes of Dominic Cummings, Prince Harry, Elon Musk and Boris Johnson.
This story first appeared on Screen's sister site Broadcast.