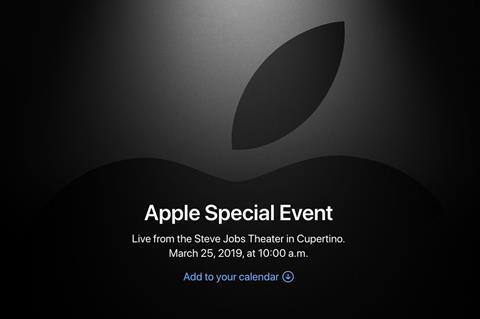 Tech giant Apple is expected to unveil its long-awaited streaming service at an event held at its Cupertino campus in California on March 25.
The company sent out a cryptic note yesterday stating "it's showtime", a message widely read as indicating that it will be the launch of the SVoD platform, for which Apple has been investing heavily in content over the last year.
TV on the slate to date include a reboot of Terry Gilliam's Time Bandits, of which Taika Waititi will direct a pilot, a CIA drama starring and executive produced by Brie Larson, and drama My Glory Was I Had Such Friends from J.J. Abrams and Jennifer Garner.
Apple has also struck a pact with Moonlight producer A24 on a slate of features. The first of those to be announced is On The Rocks, a film that sees Sofia Coppola and Bill Murray re-team for the first time since Lost In Translation.
The tech company has also signed production deals with talents including Jason Katims, Justin Lin and Oprah Winfrey.
In the UK, Apple hired BBC Films veteran Joe Oppenheimer as a creative executive in July last year, and former Channel 4 chief creative officer Jay Hunt as its first creative director, Europe, in 2017.
The launch event will take place on March 25 from 10am PST / 5pm GMT and will be viewable on the company's website.
According to reports last month, the service will feature the tech giant's own original content alongside subscription channels from companies including CBS, Viacom and Starz. Initially, the Apple content is expected to be free, with the tech company taking a share in subscriptions to the third-party channels.