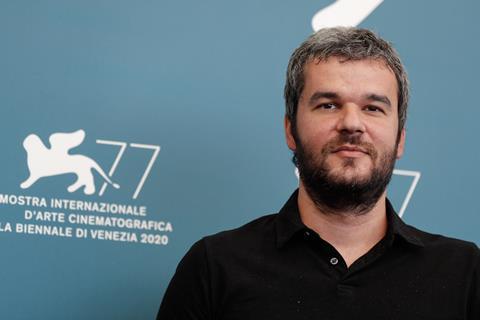 Greek director Christos Nikou, whose debut feature Apples opened Venice's Horizons today and is already shaping up as one of the buzz films of the festival, has revealed details of his next project.
Nikou is now planning an English-language feature, with a working title of Fingernails, which he and his writing partner Stavros Raptis are working on alongside UK playwright Sam Steiner.
"It is about love and the difficulty of people falling in love," Nikou said. A first draft of the script is almost completed.
Nikou was signed up by CAA earlier this summer when it looked as if Apples was headed for Cannes. CAA is involved in the new project as is Nikou's manager, Jerome Duboz.
"Somehow Jerome, the manager of Bong Joon-Ho, heard about it [Apples]. He read the synopsis and sent me a message at the end of April: 'I want to watch your movie.' I sent him the link and the next day we signed," Nikou explained. "Everything happened very quickly and I started working with them. I am very excited about it."
The young filmmaker spent six years bringing Apples to the screen. The film is produced by Iraklis Mavroeidis, Angelo Venetis, Aris Dagios and Nikos Smpiliris of Greece's Boo Productions and Mariusz Włodarski of Poland's Lava Films.
"When we submitted the film to the Greek Film Centre, we were waiting two and a half years to get a reply," Nikou commented of the film's lengthy journey. "We had all the co-producers attached but we didn't have the money from Greece. It was because of the [economic] crisis. The Greek Film Centre was closed for almost two years."
Preliminary sales on Apples were announced before the festival, with Curzon acquiring the film for the UK and Ireland and Madman for Australia. Feelgood is handling the release in Greece, where the film is set to open in November immediately after the Thessaloniki Film Festival.
Alpha Violet is handling international sales, while CAA is handling the US deal which is expected to be closed shortly.
Apples is a dystopian comedy-drama set during a pandemic which has caused sudden memory loss. Amnesiacs are required by their doctors to perform tasks to rebuild their memory banks – and to record these with polaroid cameras.
While it was shot on a low budget, Nikou says his extensive experience as an assistant director working alongside Yorgos Lanthimos on Dogtooth and Richard Linklater on Before Midnight among others enabled him to cope with a tight shooting schedule.
The director instructed his lead actor Aris Servetalis, a former dancer, to watch films from Jacques Tati and Jim Carrey to prepare for his role and then "to combine Jim Carrey and Jacques Tati in one!"