EXCLUSIVE: Docu-drama selected for BFI London Film Festival.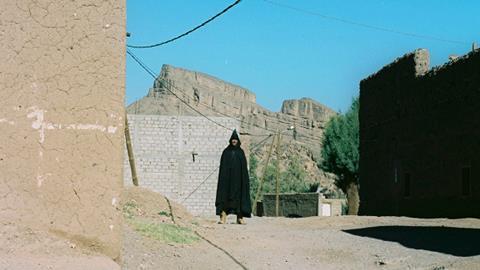 Artscope has taken on international sales of UK artist and experimental director Ben Rivers' Morocco-set The Sky Trembles And The Earth Is Afraid And The Two Eyes Are Not Brothers, a picture which explores the act of film-making.
Shot against the backdrop of the Atlas Mountains and the Moroccan Desert, the multi-layered film combines an adaptation of the late Tangiers-based, US writer Peter Bowles's 1947 short story A Distant Episode with footage of contemporary films sets.
"Part documentary, part fiction, we believe the film will not only speak to audiences familiar with Ben's work as an artist but also to cinephiles and festival-goers eager to be shaken by different forms of expression," said Sata Cissokho, head of Artscope, the specialist art film label of Paris-based Memento Films International.
The BFI London Film Festival (LFF) announced on Tuesday that the film would screen in its line-up in October. The feature, which had its world premiere in competition at Locarno in August, will also show at Toronto this month.
Cutting edge, London-based, multidisciplinary production house Artangel - headed by James Lingwood and Michael Morris - commissioned The Sky Trembles… after Rivers applied to open call in 2013.
Backers include Manchester's Whitworth Art Gallery and the BFI's Film Fund, with the support of the Arts Council England.
Jacqui Davies, who previously worked with Rivers on the short film Slow Action as well as with film-makers Apichatpong Weerasethakul, Johan Grimonprez and James Franco and a host of world renowned artists including Marina Abramovic and Mark Wallinger, produced The Sky Trembles.
"We are delighted that The Sky Trembles And The Earth As Afraid and The Two Eyes Are Not Brothers is to be part of Memento's Artscope portfolio of films. We are very much looking forward to working with Memento to see the film reach audiences across the globe," said Davies.
Titles previously represented by Artscope include Chaitanya Tamahne's Indian court-room drama Court, which won Venice's Lion of the Future in 2014 and Warwick Thornton's The Darkside, which debuted at Berlin last year.
Other recent additions to the Artscope slate include Brazilian Gabriel Mascaro's Neon Bull – about a cowboy with secret fashion designer ambitions – which will premiere in Venice's Orizzonti section before heading to Toronto's new competitive Platform section.
The Sky Trembles… marks the third feature for Rivers after Two Years at Sea, about a man who moves to a forest from the sea, and A Spell to Ward Off the Darkness, exploring spirituality in an increasingly secular world.
As with all Artangel productions, Rivers's project also involved a site-specific installation. The multi-projector work, meshing together footage from the film and additional material, ran over the summer in the drama studios of the BBC's former HQ, Television Centre in West London.