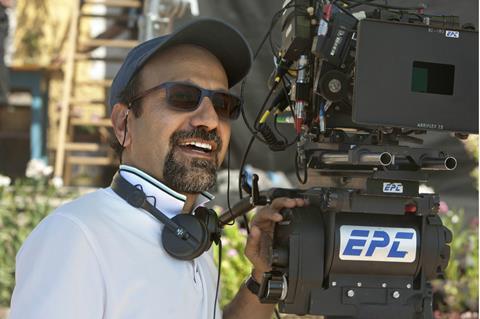 Oscar-winning Iranian director Asghar Farhadi began shooting his freshly-titled psychological thriller Everybody Knows (Todos Lo Saben) at an undisclosed location just outside Madrid on Monday (Aug 21).
Leading cast in the long-gestated Spanish-language film is Penelope Cruz, Javier Bardem and Ricardo Darin who joined Farhadi on set for the first day of shooting.
Cruz plays Carolina, a Spanish woman living in Buenos Aires, who returns to her hometown outside Madrid with her Argentinian husband and children. However, the trip is upset by unexpected events that bring secrets into the open.
Freshly announced supporting cast on the €10m production include Eduard Fernández, Bárbara Lennie, Inma Cuesta, Elvira Mínguez, Ramón Barea and Carla Campra.
As previously announced by Screen in May, the movie is a French-Spanish-Italian co-production led by French producer Alexandre Mallet-Guy (producer of Farhadi's The Past and The Salesman) of Memento Films and Che producer Álvaro Longoria of Spanish stalwarts Morena Films.
Andrea Occhipinti's Italian indie giant Lucky Red, which handled the release of The Salesman in Italy, is on board as a co-producer alongside French state broadcaster France 3 Cinema, Untitled Films AIE and Asghar Farhadi Production.
Other associate partners include Memento Films Distribution,Cofinova and Indefilms.
The production also received the support of Canal +, Eurimages, France Télévisions, Ciné +, l'ICAA and Movistar.
The previously announced high-profile crew includes DoP Jose-Luis Alcaine, the long-time collaborator of Carlos Saura, Bigas Luna and Pedro Almodovar; costume designer Sonia Grande and editor Hayedeh Safiyari, who previously worked with Farhadi on A Separation and The Salesman.
Shot entirely in Spain, the production will be distributed in Spain by Universal Pictures International Spain under the original language title of Todos Lo Saben.
Memento Films International is handling international sales.
Farhadi was originally planning to work with Cruz and Bardem in 2015 but decided to return Iran to shoot his Oscar-winning picture The Salesman instead.