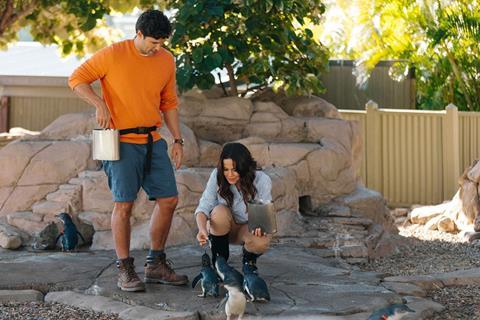 Australia's production boom grew to a record $1.47bn (A$2.29bn) spent on drama features and series in the year to June 2022.
According to the annual 'Drama Report', published by Screen Australia, a record $977m (A$1.51bn) was spent on Australian titles and $503m (A$777) on international productions during the 12-month period from 2021-2022.
This comprised 24 Australian theatrical features; 62 Australian TV and VOD drama titles; 11 Australian children's titles; and 65 international projects.
Screen Australia chief executive Graeme Mason told Screen he was pleased two-thirds of expenditure went on Australian titles. The government agency's research shows that a multitude of international players are among the financiers of these projects, particularly on the TV front.
"We are no longer just beholden to [local] distributors and exhibitors and television networks – public and private – to invest here to make great Australian material," said Mason.
Record spending on Australian theatrical features – $508m (A$786m) up from ($320m) A$495m in 2020/21 – helped boost overall expenditure. Of this, 45% came from government sources, 44% from international investors and the rest from private investment and the industry.
However, only 24 films went into production, down on the five-year average of 37 films and notably down on the previous year's 46.
"It surprised me the number was that low but it didn't totally surprise me because less people are coming to us with film applications and that was an indication," said Mason. "Financing films around the world has been tough for years but Covid has accelerated and exacerbated the problem and the core cinema-going audience for independent films hasn't come back yet."
Michael Gracey's Robbie Williams biopic Better Man, set up as an indie film sold internationally by Rocket Science, Garth Davis sci-fi thriller Foe for See-Saw Films and George Miller's Mad Max prequel Furiosa for Warner Bros accounted for a significant proportion of total expenditure, according to the drama report.
"Five titles each had budgets in excess of A$20m ($13m) and accounted for 87% of total Australian theatrical feature budgets," the report states. "The proportion of features made for over A$5m ($3.3m) was above the five-year average, while the proportion made for under A$5m was below."
Only two of the 24 features were official co-productions: Mark Gravas' Ireland-Australia animation Being Betty Flood; and Christine Luby's Canada-Australia film You, Me And The Penguins.
Films shown exclusively on streaming platforms – such as Russell Crowe's upcoming drama Poker Face – are not included in these theatrical features.
The most recent example of a film that had a short cinema run before going to a streamer is Thomas M Wright's The Stranger, which premiered in Un Certain Regard at this year's Cannes. Mason noted "the brilliant but tough film" struggled to connect with audiences in cinemas but last week it was the third most popular film on Netflix globally according to the streamer. It was included in last year's drama report.
Further Australian films set to be released in the next year include Robert Connolly's Blueback and Force of Nature, Gracie Otto's Seriously Red, Jub Clerc's Sweet As, Michael and Danny Philippou's Talk To Me, and Goran Stolevski's Of An Age.
International productions that will be in next year's report include Godzilla vs Kong, The Fall Guy, Kingdom Of The Planet Of The Apes, Land Of Bad and the series Metropolis. The two foreign films made in Australia in 2021/22 were Ticket To Paradise and Woody Woodpecker 2.
There was also a record spend on production for Australian subscription television and subscription video on demand: the number of titles and hours made, and the budgets, having tripled since 2020/21. A busy post, digital and visual effects sector also benefited from the busy environment.