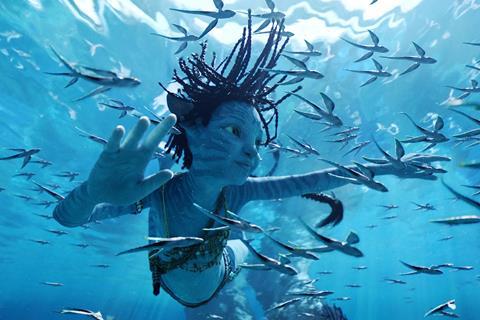 Avatar: The Way Of Water stood at $955.1m by Tuesday morning and is on course to cross the $1bn global box office within the next two days, possibly as early as Wednesday.
Following three-day $224.6m and four-day $250.6m worldwide second weekend hauls James Cameron's action fantasy sequel added $83.7m on Monday. A $52.2m haul from international markets propelled the tally to $661.9m while $31.5m from North America boosted the running total there to $293.2m.
The tentpole now ranks as the third highest release of 2022 behind Top Gun: Maverick ($1.488bn) and Doctor Strange In The Multiverse Of Madness ($955.8m) and is the fourth highest release of the pandemic era. It will become the second highest release of the year when it overtakes Doctor Strange today.
Internationally the Disney/Lightstorm release ranks as the second highest of 2022 and the third highest Hollywood release of the pandemic era. In North America extreme winter storms across large parts of the United States and Canada disrupted cinema-going however Disney sources noted that the four-day $95.5m haul was still on par with Rogue One's corresponding $96m second weekend in December 2016.
Avatar: The Way Of Water produced its higest single days so far in France and Italy, where it stands at $60.5m and $20.8m, respectively.
China tops the leaderboard on $104.5m, lower than expected due to Covid surges that have shut down cinemas in parts of the country. Next is France, followed by South Korea on $55.4m, Germany on $41.5m, and India on $39.2m.
The UK has generated $33.1m, Mexico $27.6m and Australia $22.8m, followed by Italy, then Spain on $18.6m, Brazil on $17.6m, and Indonesia on $12.2m.
Avatar: The Way Of Water has grossed more than $100m on Imax around the world, earning $105.5m at time of writing to become the fastest film to reach the benchmark since April 2019.
Cameron's epic is the ninth film in Imax history to exceed $100m at the global box office and to date has accounted for 11.4% of the film's global gross. This has been the widest Imax global release on 1,543 screens at its peak.
North America has generated $38m and international markets $67.5m. Imax screens in China have delivered $26.5m for roughly 25% of the total gross in the territory on around 1% of screens.