Bad Hair (Pelo malo) wins San Sebastian's top prize.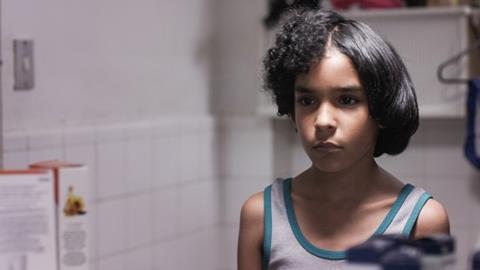 Scroll down for full list of winners
The Golden Shell of the 61st San Sebastian Film Festival has been awarded to Bad Hair (Pelo malo), from Venezuelan director Mariana Rondón.
The low budget film received a positive reception from its first screening at the start of the festival.
Set in the poor areas of Caracas, Bad Hair tells the story of the relationship between a mother and her nine-year-old boy, who loves to dance and sing and is obsessed with his curly hair. The mother begins to suspect the boy is gay and the film develops into a social drama told with humor and does not shy from the melodramatic consequences.
Film-maker Todd Haynes presided over the jury, which comprises actor Diego Luna, actresses Valeria Bruni-tedeschi and Paulina García, producer Mariela Bessuievsky and director Cesc Gay.
Fernando Eimbcke picked up the Best Director prize for his Mexican film, Club Sandwich.
Like Bad Hair, it focuses on the relationship between a mother and boy. Set in an isolated summer resort during low season, the bond between mother and son is strained when the teenage boy falls for a girl at the hotel.
The success of these films helps cement the relationship between Latin America and San Sebastian, which also hosted the second edition of the Europe-Latin America co-production Forum. More than 1,100 industry professions from both sides of the Atlantic visited the Basque region to attend.
Wounded, the directorial debut of Fernando Franco, received the Special Jury Prize.
The intimate tale of a young woman with severe psychiatric problems uses an innovative cinematographic language with the use of continuous close ups and ambient sound. The lead, newcomer Marián Alvárez, won best actress.
The prize for best actor went to veteran British actor Jim Broadbent for his role in Roger Michell's Le Week-End. Broadbent plays a one half of an old couple who return to Paris many years after their honeymoon there in an attempt to rejuvenate their marriage.
Manuel Martín Cuenca's Caníbal , which was the front-runner following its screenings at Toronto, left with the prize for best cinematography for the work of Pau Esteve Birba.
The award for best script went to Bertrand Tavernier's political satire Quai d'Orsay, penned by Christophe Blain (co-author of the original comic) and Antonin Baudry along with Tavernier.
Overlooked was Denis Villeneuve, who screened doppelganger thriller Enemy in competition and kidnap drama Prisoners out of competition. Prisoners star Hugh Jackman did, however, receive the honorary Donostia award along with Carmen Maura.
With a smaller official section than in previous years – 16 titles – the 61st edition of the festival was good but not great.
With a tighter budget than ever and Spanish cinema continuing to struggle, the number of local visitors also descended even if theatres were packed throughout the run.
Winners
Main Competition
Golden Shell
Bad Hair, Mariana Rondon (Venezuela, Peru, Germany)
Special Jury Prize
Wounded, Fernando Franco (Spain)
Silver Shell, Director
Fernando Eimbcke, Club Sandwich (Mexico)
Silver Shell, Actress
Marian Alvarez, Wounded (Spain)
Silver Shell, Best Actor
Jim Broadbent, Le Week-End (UK)
Cinematography
Pau Esteve Birba, Cannibal (Spain, Romania, Russia, France)
Screenplay
Antonin Baudry, Christophe Blain, Bertrand Tavernier, Quai D'orsay (France)
Other Main Prizes
Kutxa New Directors' Award
Of Horses And Men, Benedikt Erlingsson (Iceland, Germany)
Horizontes Award
A Wolf At The Door, Fernando Coimbra (Brazil)
Wuaki.Tv Audience Award
Like Father, Like Son, Hirokazu Kore-Eda (Japan)
Wuaki.Tv Audience Award, European Film
About Time, Richard Curtis (UK)
Desigual Youth Award
Wolf, Jim Taihuttu (Netherlands)
Films In Progress Industry Award
La Salada, Juan Martin Hsu (Argentina)
Other Awards
Fipresci Prize
Quai d'Orsay, Bertrand Tavernier (France)
TVE Other Look Award
Young And Beautiful, Francois Ozon (France)
Signis Award
The Railway Man, Jonathan Teplitzky (UK, Australia)
Special Mentions
Bad Hair, Mariana Rondon (Venezuela, Peru, Germany)
October November, Gotz Spielmann (Austria)
Solidarity Award
My Soul Healed By You, Francois Dupeyron (France)
Irizar Award
Asier And I, Aitor Merino, Amaia Merino (Spain, Ecuador)
Sebastiene 2012 Award
Dallas Buyers Club, Jean-Marc Vallee (US)
Special Mention
Bad Hair, Mariana Rondon (Venezuela, Peru, Germany)