Preview of 20,000 Days on Earth to be broadcast live with Nick Cave and special guests.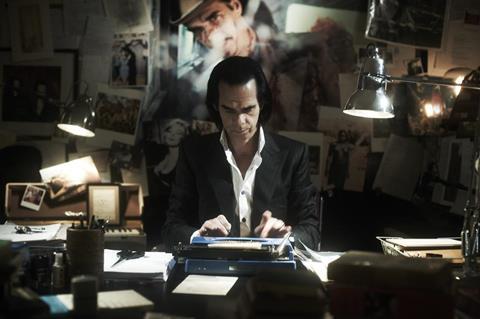 London's Barbican Hall has been selected to host a live satellite broadcast of Nick Cave documentary 20,000 Days on Earth to 150 UK cinemas on September 17.
The gala preview will be followed by an hour-long event, set to include a live performance from Nick Cave, Warren Ellis and Barry Adamson and a Q&A with the creative team behind the film including directors Iain Forsyth and Jane Pollard as well as special guests.
Picturehouse Entertainment will release 20,000 Days on Earth on September 19 in cinemas across the UK and Ireland.
Speaking of the event, Picturehouse Entertainment's director of programming acquisitions Clare Binns said: "Picturehouse Entertainment continues to spearhead innovative and unconventional release strategies designed to maximise their films' ability to reach the widest possible audience."
The film received its world premiere at Sundance and Berlin earlier this year, winning the Sundance Best Direction prize and the Best Editing Award for Jonathan Amos in the World Cinema Documentary section.
The film fuses drama and documentary by weaving a cinematically staged day in Cave's life with never-before-seen footage of his full creative cycle.
A digital partner project for the film, commissioned by Film4 and developed in collaboration with the filmmakers, Picturehouse and Pulse Films, will be announced soon.
Featuring an original score by Nick Cave and Warren Ellis, the film is produced out of Pulse Films by James Wilson (JW Films) and Dan Bowen, and backed by Film4, the BFI, Corniche Pictures, Pulse, PHI, and Goldin Films.
It will receive its UK premiere as part of the Film4 Summer Screen at Somerset House on August 13.