APRIL 11 UPDATE: Disney's The Jungle Book swings in with estimated $28.9m international debut.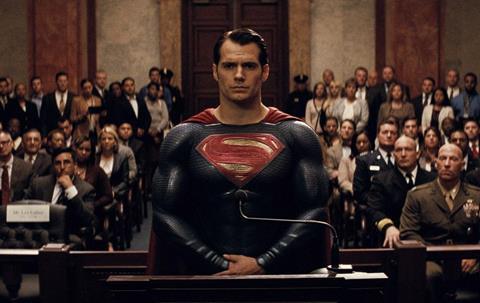 WARNER BROS PICTURES INTERNATIONAL
UPDATE: Batman v Superman: Dawn Of Justice is nearing $500m at the international box office after three weeks in play.
The superhero battle fought to a confirmed $34.4m from its 67 markets to bring its overseas tally to $487.7m as it reigned overseas for the third straight weekend.
Brazil led the way with $4.2m for a local tally of $28.3m, making it the third biggest superhero film of all time. Meanwhile, the UK added an extra $3.3m for $47.6m and China pulled in a further $2.8m for $93.5m to date.
Batman v Superman stands at $33.6m in Mexico, $17.1m in France and $20m in Australia.
Globally, the film has amassed $784.3m to date, pushing it into the top ten superhero films of all time ahead of the likes of Guardians Of The Galaxy ($773m) and The Amazing Spider-Man ($758m).
WALT DISNEY STUDIOS MOTION PICTURES INTERNATIONAL
The Jungle Book swung into action with an excellent estimated $28.9m international debut from a handful of markets, double the opening of Cinderella in the same markets.
Highlights included the second highest ever industry opening for a Western release in India with $7.6m, Russia with a strong $6.2m and a chart-topping $2.6m debut in Australia despite only previewing in around 50% of the country.
The Jungle Book opened at number one in all of its Asian starts and grossed $6.6m across its eight Latin American territories.
It opens in the likes of France, Germany, Italy, the UK, China, Brazil and Mexico next weekend alongside its domestic debut. Korea opens on June 2 and Japan on Aug 11.
Zootopia hopped to a further $22.7m from its 53 territories for a terrific $556.5m overseas to date, and $852.5m globally.
In the UK, the animation dropped just 12% and could top the Fri-Sun weekend, while it boosted 28% in France and 21% in Switzerland. Zootopia has now surpassed Avengers: Age Of Ultron as Disney's biggest-ever release in China with $232.2m.
It opens in Japan on April 23.
NU IMAGE
Thanks mainly to a chart-topping $24m bow in China, action sequel London Has Fallen shot to an estimated $26m from its 42 markets for over $90m to date.
UNIVERSAL PICTURES INTERNATIONAL
UPDATE: Landing in 18 international territories ahead of its domestic bow, The Huntsman: Winter's War posted a $19.1m debut.
The fantasy prequel/sequel opened top in nine of its markets, led by a preview-boosted $4.2m bow in the UK. Mexico charted at number one with $2.8m from its 717 dates, while Spain and Thailand grossed $1.3m and $1.2m, respectively.
The Huntsman: Winter's War has 47 territories to open over the next two months, starting with seven territories, including Korea and Russia, next weekend.
My Big Fat Greek Wedding 2 danced to an extra $3.2m from its 19 territories for $24m to date overseas. It posted a chart-topping $254k opening in Greece, three times bigger than the debut of its predecessor.
To go with its chart-topping domestic bow, The Boss grossed $1.1m from its eight territories. It opens in nine more territories, including Australia and New Zealand, next week.
The Witch scared up $460k from its 13 territories for $6.7m to date after a $115k debut in Colombia. There are 16 more territories to open over the next several months, starting with New Zealand next weekend.
FOX INTERNATIONAL
UPDATE: Kung Fu Panda 3 chopped to a further $11.8m from its 71 markets for $343.3m to date.
The threequel dropped only 9% in France on its way to a $3.1m second weekend and a local tally of $8.3m, while Australia added $1.1m for $6.9m after three weeks in play. It opens in its final market of Holland next week.
Landing with $927k in Korea, Eddie The Eagle grabbed $2.5m from its 48 markets for an early $7m. The biopic charted fifth in Taiwan with a $376k debut from its 74 screens.
The Revenant and Deadpool stand at $335.6m and $400.8m, respectively.
GAUMONT
According to ComScore, Gaumont's reboot The Visitors: Bastille Day scored an estimated $7.25m debut in France.
PARAMOUNT PICTURES INTERNATIONAL
UPDATE: With a $1.7m opening in Korea, 10 Cloverfield Lane grossed a $5.8m from its 42 markets for $25.8m to date.
Along with its number two bow in Korea, the well-received sequel took $540k on its Venezuela debut, $577k in Brazil and $319k in Indonesia. It opens in 12 new markets next weekend, including Argentina, Hong Kong and Mexico.
13 Hours stands at $15.1m after a $645k weekend from its nine markets.
SONY PICTURES RELEASING INTERNATIONAL
Religious drama Miracles From Heaven enjoyed a $1.1m second weekend in Mexico for $3.9m to date. It stands at $5.3m internationally and opens in Brazil on April 21 and Colombia on April 28.
STUDIOCANAL UK
In the UK, Palme d'Or winner Dheepan posted an estimated $220k debut, including previews, while Ben Wheatley's High-Rise has grossed $2.4m after four weeks in play.