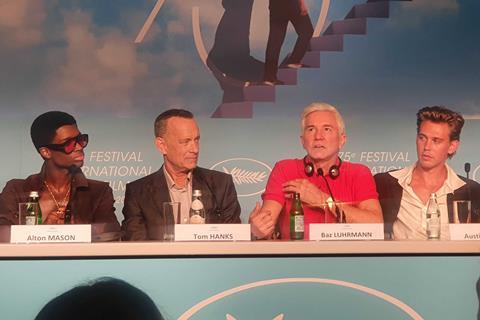 Baz Luhrmann and Hulu have confirmed plans for the release of Faraway Downs, a limited streaming series assembled from footage shot by Luhrmann for his epic 2008 feature Australia.
The six-part series, described as a "new, reimagined cut" of the feature with a new ending and updated soundtrack, will launch this winter as a Hulu Original in the US and a Star Original on Disney+ and Star+ in international markets.
Luhrmann, whose Elvis opened at the top of the US box office chart last weekend, first revealed the existence of Faraway Downs in an early May interview with the Sydney Morning Herald.
The 165-minute Australia starred Nicole Kidman and Hugh Jackman in a lavish romance about an English aristocrat who inherits the Faraway Downs cattle ranch in Australia and joins forces with a rough-hewn drover to protect her property from plotting cattle barons. With a budget in excess of $100m, the film got mixed reviews and underperformed at the box office, taking $50m in North America and $162m internationally (though it was a big hit in Australia itself).
Faraway Downs the series will be executive produced by Luhrmann, Catherine Martin, Schuyler Weiss and Catherine Knapman, with 20th Television as the studio.
Said Luhrmann: "I originally set out to take the notion of the sweeping Gone With the Wind-style epic and turn it on its head. A way of using romance and epic drama to shine a light on the roles of First Nations people and the painful scar in Australian history of the 'Stolen Generations.' While Australia the film has its own life, there was another telling of this story; one with different layers, nuances and even alternative plot twists that an episodic format has allowed us to explore. Drawn from the same material, Faraway Downs is a new variation on Australia for audiences to discover."
Hulu Originals and ABC Entertainment president Craig Erwich added: "Baz is one of the world's great auteur storytellers, so revisiting Faraway Downs and experiencing his incredible film Australia in this unique, new episodic format has been a revelatory and unique adventure. We look forward to taking viewers into the ranch and to experiencing all of the stories that are both held within and continue to unfold there."