BBC Trust chairman Lord Patten is to stand down with immediate effect after undergoing heart surgery.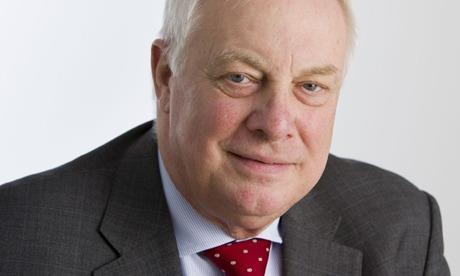 The decision marks the end of a turbulent tenure for the former Hong Kong governor, who presided over the BBC's Jimmy Savile and payoffs scandals after joining the governing body in May 2011.
Patten, who has previously had cardiac complications, said in a statement that he suffered "serious chest pains" on 27 April and after being admitted to hospital underwent successful bypass surgery the next day.
"On the advice of my doctors and having consulted my family and friends, I have concluded that I cannot continue to work at the same full pace as I have done to date, and that I should reduce the range of roles I undertake," Patten said.
"On this basis I have decided with great regret to step down from much the most demanding of my roles – that of chairman of the BBC Trust. This is a position that requires and has received from me 100% commitment, and has been my priority at all times."
Patten added that it "would not be fair" to the BBC or his family to continue in the role. He has written to culture secretary Sajid Javid to tender his resignation and the Trust's vice chairman Diane Coyle will take over Patten's responsibilities until a replacement is found.
He praised the work of the NHS in overseeing his care and said the health service and the BBC had much in common.
"Like the NHS, the BBC is a huge national asset which is part of the everyday fabric of our lives. It is not perfect – what institution is? It always needs to challenge itself to improve. But it is a precious and wonderful thing, a hugely positive influence which benefits greatly from the creativity and dedication of its staff," he said.
"I have had no reason to doubt that the leaders of all main political parties support the role it plays at the centre of our public realm. Most important of all, the British public enormously value the strength of its output, its independence and the contribution it makes every day to the quality of our lives."
Charter renewal
Patten's tenure as chairman was due to end in April 2015 and in July last year he stated that he had "no present intention of seeking a second term". However, at the time hesuggested that he was prepared to remain in post for a fixed period to help oversee charter renewal negotiations next year.
The Department for Culture Media and Sport (DCMS) will now begin the hunt for Patten's successor at a crucial time for the BBC, which could undergo radical changes when its charter is renewed during negotiations after next year's general election.
It will be the first big task in the broadcasting world for Javid, who replaced Maria Miller last month amid a row over her expenses claims. The DCMS is yet to issue a statement on Patten.
BBC director general Tony Hall said: "I have enjoyed working with Chris over the last year; he is a staunch believer in the BBC and he has brought his vast experience to the role of chairman of the BBC Trust.
"He has steered the BBC through some of its most difficult days. In undertaking this role he brought unrivalled experience, wisdom, and an overwhelming desire to ensure that the BBC remains the best public service broadcaster in the world."