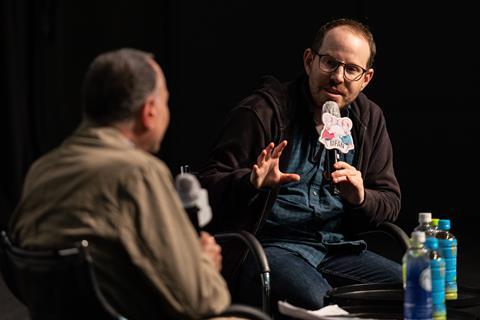 At the Bucheon International Fantastic Film Festival (Bifan), Beau Is Afraid director Ari Aster gave a masterclass ahead of the film's screening on opening night (June 29), in which he discussed working with actor Joaquin Phoenix and his affinity for Korean cinema.
On his first trip to South Korea, Aster sat down with his mentor from the American Film Institute (AFI), Barry Sabath, who is also dean of Bifan's Fantastic Film School (FFS) workshop, to talk about surrealist drama Beau Is Afraid.
The film stars Phoenix as Beau, an anxious but mild-mannered man who sets off on a surreal and often horrific odyssey to attend his mother's funeral. The A24 film was released in the US in April.
The director said he had always had Phoenix in mind while writing the script but his recollection of the actor's initial response to being approached to star in the film "was something like, 'I just won the Oscar, why the fuck would I do this?'"
"For me, it was the best experience I ever had working with an actor. It was really wonderful," he said, after explaining they discovered they had similar senses of humour and attitudes towards work. "He is someone who likes to read over the script a lot, talking things through. He likes to question things and investigate things."
"I think what I was most surprised about was that his performances are so alive and he seems so present in his films that I thought maybe he'd need everything to be spontaneous and not want to rehearse or work through things. What I discovered was he is a very technical actor who does really figure things out long in advance. He does like to rehearse and he is able to do things that look totally spontaneous many times over.
"Once it starts to lose life, though, for him, he has to stop doing whatever that thing is and find a new way in. He's an actor who can't do anything false. And that's a very useful thing. Because you don't want your actor doing anything false. He's uniquely unwilling to keep moving forward on a path that doesn't feel honest to him."
In order to work with Phoenix, the famously meticulous director of Hereditary and Midsommar who usually shot-lists the entire film with blocking, dropped the idea of imposing blocking on him. "When I knew I would be working with Joaquin, I knew I wouldn't be able to prescribe the blocking," said Aster. "I did the same thing I do with all my films, I shot-listed the entire film but just so I would have a movie in my head and went and worked through the blocking with him.
"I found the experience of working with him to be so much fun and found I was able to pivot very easily and find new shots that would support the scene as blocked by him and me together. It was a joyous process."
The filmmaker added that working with cinematographer Pawel Pogorzelski, with whom he made his previous two features, helped in "the way I was working – I had a plan but was ready to throw it out."
With the film set for release in South Korea on July 5 – distributed by Studio DHL with buyer and co-distributor Sidus – Aster is doing the rounds in the country. He is set to have an onstage talk with Oscar-winning Parasite director Bong Joon Ho on July 1 in Seoul and mentioned having lunch with Burning director Lee Chang-dong today before the masterclass – "one of the great filmmakers working now."
"I love Korean cinema. I feel some of the best films in the world are coming out of Korea and that's been the case for a long time," he said, referring to classics like director Yu Hyun-mok's Aimless Bullet (aka Obaltan, 1961) and the films of Kim Ki-young to contemporary filmmakers such as Park Chan-wook, Bong Joon Ho, Na Hong-jin, Hong Sangsoo, Lee Chang-dong and Jang Joon-hwan, whose Save The Green Planet! Aster was previously announced to remake in English.
"I think 'melodrama' tends to be a term that is used in a derogatory sense to belittle certain films that maybe are over the top but in the sense that I mean, 'melodrama' comes from the term 'melos' which means music. And it's beautiful," he said of Lee's films.
"That's another thing I love about Korean cinema – its embracing of melodrama and its humour. There is a Korean humour that is pretty indelible and it's very specific to this place. I think it has to do maybe with you guys having painful history – that you find humour in the macabre and in darkness and it's very beautiful. I connect to the work that's coming from Korea."