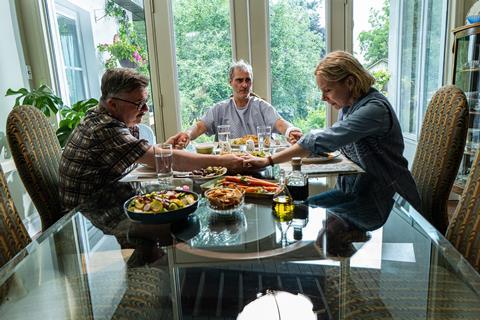 South Korea's Bucheon International Fantastic Film Festival (Bifan) is set to open its 27th edition with Ari Aster's Beau Is Afraid, starring Joaquin Phoenix, and close with the world premiere of Takashi Shimizu's Sana.
The festival will run June 29 - July 9 with its award ceremony on July 7, followed by the screening of Sana.
Best known for The Grudge, J-horror master Shimizu's latest film follows the disappearance of an idol group's members and an eccentric private detective's investigation into the matter. Shimizu received the Screen International Star Asia Lifetime Achievement Award at last year's New York Asian Film Festival (NYAFF).
Bifan is set to screen 262 films from 51 countries, including 83 world premieres and 26 international premieres with a limited number of titles also receiving online screenings on local OTT platform wavve.
The city of Bucheon is celebrating its 50th anniversary this year and events in and around the festival will include 'Carnival in July' - a continuation of the 'Halloween in July' event launched last year but renamed after the fatal crowd-crush tragedy that happened during Halloween festivites in Itaewon - a parade, water gun fights, surprise guerrilla performances and night-time food trucks in select venues.
Competitions
This year's Bucheon Choice: Features international competition lineup of 10 films includes 2019 BIFAN NAFF It Project and Sitges Pitchbox Award winner Tiger Stripes, directed by Malaysia's Amanda Nell Eu, which picked up Cannes Critics' Week grand prize last month.
World premieres in this section are Whale Bones, directed by Oe Takamasa, known for co-writing Drive My Car with the film's director Ryusuke Hamaguchi; and Robert Hloz's sci-fi serial killer film Restore Point, which was in the 2017 It Project selection. Organisers noted the rise of Mongolian genre films with the international premiere of Disorder, directed by newcomer Batdelger Byambasuren.
In the Korean Fantastic: Features section for local low-budget genre films, 2022 NAFF-awarded Work in Progress title Helpless (formerly known as The Comedian), directed by Jeon Seung-pyo, will receive its world premiere as will eight further titles and one other making its Asian premiere.
Bifan is launching a new section, Korean Fantastic: Cinema + K-Pop, to explore the emergence of new audiences and the expansion of cinema in two of Korea's most popular cultural fields. This year's showcase will be led by Finding Ppong, a documentary that follows DJ and award-winning music producer 250 as he delves into the roots of Korean popular music.
Special showcases include a spotlight on actor Choi Min Sik with 10 of his films personally chosen by the actor including two remastered Korean Film Academy of Arts shorts from the 1980s, director Park Jong-won's Our Twisted Hero (1992), seminal espionage thriller hit Swiri (1999) and Park Chan-wook's Old Boy (2003).
The festival's programmers have also co-curated a special programme on folk horror to present 11 titles ranging from Swedish silent film masterpiece Häxan (1922) to Korean occult horror film Evil Spirit (1974) and British genre filmmaker Ben Wheatley's modern take on folk horror Kill List (2011) to Kenneth Dagatan's Philippines-Singapore-Taiwan horror film In My Mother's Skin (2023), which premiered at this year's Sundance.
Bifan's XR section Beyond Reality, now in its eighth year, will showcase 31 titles including a trio of Quebec-based films to celebrate the 60th anniversary of South Korea-Canada diplomatic ties, and a range of XR talks on immersive storytelling and techniques.
Industry
The Bifan Industry Gathering (BIG), comprising the Network of Asian Fantastic Films (NAFF) project market, the Made in Asia forum and the Fantastic Film School workshop, is set to run June 30-July 5. The BIG Closing/NAFF awards ceremony will be on July 3.
Previously announced NAFF projects include Kim Taekyung's Korean title Angel Number and Bhaskar Hazarika's Taiwanese project Biraa.
Made in Asia conferences will cover themes such as how to proceed in the Covid-19 "endemic" era and the vitalizing film collaboration in Asia. Speakers include producers Billy Acumen of The Outlaws company BA Entertainment, Usui Shinnosuke of Toho Company, director of the Taipei Film Commission Jennifer Jao, co-founder and director of the Eurasian Film Market in Kazakhstan Helene Haug and chairman of the Korean Film Council Park Ki-yong.