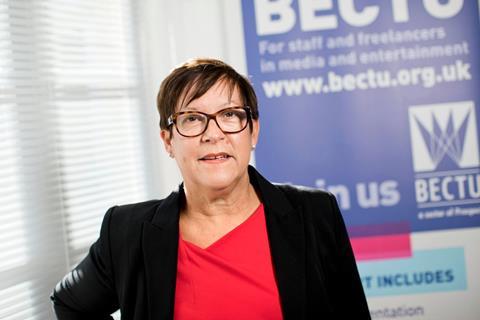 Creative industries union Bectu has written to the AMPTP, urging the US studio and streamer alliance to "put in place financial support for UK crew" as a result of the ongoing actors and writers' strikes.
In the letter, Bectu head Philippa Childs said that the UK industry had ground to a halt because of the disputes.
The union said that behind the scenes crew and background artists have been laid off under force majeure contracts with very little notice and no pay. Others who work in the fashion sector, styling actors for promotional opportunities and events, have also lost work.
"This crisis is not of the crew's making," wrote Childs. "Yet it is they who are paying the price of your failure to reach an acceptable agreement with our colleagues in the WGA and SAG-AFTRA.
Addressed to AMPTP president Carol Lombardini, the letter said the alliance had a "responsibility to the workforce that is so integral to creating the content that you profit from."
Childs pointed to a recent Bectu survey which showed that 80% of UK film and TV workers have had their employment directly impacted by the disputes; three quarters are currently not working.
The letter warned that many crew were considering leaving the industry because of its precarious nature and that they will take their expertise elsewhere.
Childs wrote: "We urge you to take seriously your responsibility to your workforce; writers, actors and crew; and to resume negotiations with WGA and SAG-AFTRA with a renewed and genuine resolve to reach a satisfactory agreement. This agreement must recognise that the workforce deserves fair remuneration for their contribution to making the industry such a success worldwide."