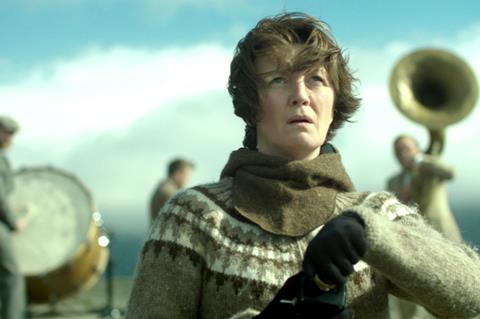 Belgium's Guillaume Senez, Iceland's Benedikt Erlingsson and Iran's Jafar Panahi were among the award-winners at this year's Filmfest Hamburg, which ended yesterday (6 October).
The Art Cinema Award went to Benedikt Erlingsson's political comedy Woman At War which opened the Filmfest on 26 September and will be released in German cinemas by Pandora Filmverleih.
Senez's second feature Our Battles (his debut was Keeper) won the Critics' Choice Award which was presented for the first time in collaboration with the Association of German Film Critics (VDFK).
The family drama about a single dad caught between household chores and confronting industrial disputes opened in French and Belgian cinemas last week and is being handled internationally by Be for Film.
The critics jury also gave a special mention to Geula, an Israeli drama about a father's unconditional love by co-directors Boaz Yehonatan Yacov and Joseph Madmony.
Iranian filmmaker Jafar Panahi became the latest recipient of the festival's Douglas Sirk Award which is given to those who have made a special contribution towards film culture and the film industry.
Since Panahi was not able to accept the award in Hamburg in person so he sent a video message, and his daughter Solmaz was in Hamburg for the award ceremony and the screening of his Cannes winner 3 Faces, one of the highlights of this year's Filmfest.
Past honorees of the Douglas Sirk Award have included Clint Eastwood, Jodie Foster, Steven Frears, François Ozon, Isabelle Huppert, Tilda Swinton and Wim Wenders.
Other prizes included the NDR Young Talent Award to French directing duo Andréa Bescond and Eric Métayer's autobiographically inspired drama Little Tickles, the Friedrich Ebert Foundation's prize for the Best Political Film to Alexandria Bombach's portrait of a survivor of the Yazidi genocide in On Her Shoulders, and the Commerzbank-sponsored Audience Award for Swedish filmmakers Felix and Mans Herngren's Solsidan.
The Hamburg Producers Award for German Film Productions went to the Berlin-based producers Jamila Wenske und Sol Bondy of One Two Films for Sven Taddicken's The Most Beautiful Couple which had its world premiere in Toronto last month. Michael Eckelt's Riva Film took home this year's Hamburg Producers Award for European Co-Productions for his co-production of Sibel by Çağla Zencirci and Guillaume Giovanetti.
Festival director Albert Wiederspiel and his team presented 138 films from 57 countries over the ten days and welcomed such international guests as Jamie Lee Curtis – in town for the German premiere of the latest Halloween film, directors Bille August, Agnes Jaoui, Christopher Boe, James D. Stern, Yolande Zauberman, Raul de la Fuente and Damian Nenow as well as actors Nikolaj Lie Kaas, Gonzalo Delgado, Thure Lindhardt, among others.
Wiederspiel – who recently had its tenure as festival director extended by another five years - reported that attendance was slightly up on last year at 43,000 admissions in spite of the festival coinciding with half-term holidays in Hamburg and the festivities marking German reunification last Wednesday.