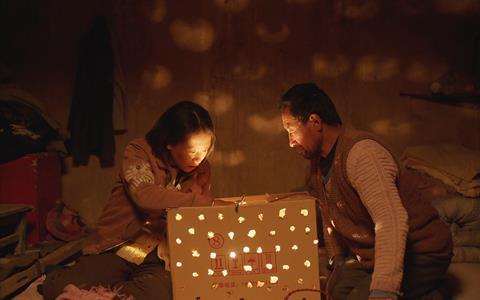 Berlinale Competition title Return To Dust, written and directed by China's Li Ruijun, has been sold to North America, Japan, Europe and MENA in a raft of deals by sales agency M-Appeal.
New York-based Film Movement has secured rights for North America and is planning a theatrical release in autumn or early winter 2022.
The relationship drama follows the unassuming Ma and Cao, played by Wu Renlin and Hai Qing respectively, who have been cast off by their families and forced into an arranged marriage. They overcome this adversity by building a farm together.
Berlin-based M-Appeal has also closed a deal for Italy with Tucker Film, which will begin its rollout with a screening at the Udine Far East Film Festival later this month. Tucker Film executives Sabrina Baracetti and Thomas Bertacche are president and festival coordinator of Udine respectively.
In Japan, Moviola will release the film theatrically at the beginning of 2023, first in Tokyo and then in around 40 cinemas across the country.
Film Europe has taken Return To Dust for the Czech Republic and Slovakia and will distribute the feature as part of its own Be2Can film festival this October, screening in more than 50 cities throughout the two countries, before expanding its theatrical release.
It has also been confirmed that Beirut-based Moving Turtle will distribute the film across the Middle East and North Africa later in the year.
The film, which was the first Chinese feature to play in Competition at the Berlinale since 2019 and generated positive buzz at this year's festival, had previously been sold to France (ARP), UK and Ireland (Modern Films), Benelux (September Films), Spain (BTeam Pictures), Switzerland (Trigon Film), Portugal (Alambique) and Greece (Ama Films).
Return To Dust was produced by Zhang Min and Li Yan through Hucheng No.7 Films. Co-producers include Qizi Films, Beijing JQ Spring Pictures, Such a Good Film, Beijing Alibaba Pictures Culture, Dream Media, Aranya Pictures, Hangzhou Qin Zi Zai and Beijing Showcase Culture Media.
Li Ruijun's previous films include Walking Past The Future, which played in Un Certain Regard at Cannes in 2017; River Road, which was selected for Tokyo and the Berlinale in 2015; and Fly With The Crane, which played at Venice in 2012.