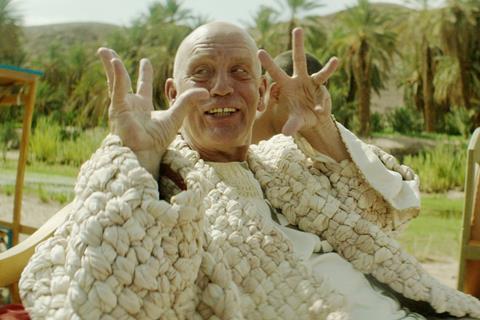 The Berlin International Film Festival (Feb 16-26) has announced six titles for its Berlinale Special Galas, including the world premieres of John Malkovich starrer Seneca – On the Creation of Earthquakes and Alex Gibney's untitled Boris Becker documentary.
The festival has also unveiled eight Forum titles, including world premieres of Fiona Tan's Dearest Fiona and Vincent Dieutre's This Is The End.
In addition, the festival has named the first title to play in Berlinale Series, the eco-thriller The Swarm (Der Schwarm) – based on the eponymous bestseller by Frank Schätzing.
Robert Schwentke's Seneca – On the Creation of Earthquakes sees Tom Xander play Emperor Nero who is beginning to weary of the famous Roman philosopher Seneca, played by Malkovich, his teacher, mentor and close advisor since childhood. It also stars Louis Hofmann, Alexander Fehling, Lilith Stangenberg as well as Geraldine Chaplin.
Gibney's Boris Becker doc charts the rise and fall of the Wimbledon champion, who was released from jail last week after serving eight months of a two and half year sentence for hiding £2.5m of assets and loans to avoid paying his debts. Gibney won an Oscar for his 2007 doc Taxi To The Dark Side, and was nominated for Enron: The Smartest Guys in the Room.
ZDF series Der Schwarm centres on an international group of scientists researching a mysterious ocean phenomena that becomes a global threat. Berlinale Series will present the first three episodes of the eco-thriller by showrunner and executive producer Frank Doelger, and directed by Barbara Eder, Luke Watson and Philipp Stölzl, out of competition. The cast includes among others Leonie Benesch, who will also be one of the European Shooting Stars at the Berlinale.
Todd Field's Tár is also getting a Special Gala. "ShowingTár in Berlin for a special screening was a natural choice. In a cinematic way, the acclaimed work of Todd Field and his actors has captured the special flair of this city," said artistic director Carlo Chatrian.
Field along with Cate Blanchett, Nina Hoss and composer Hildur Guðnadóttir will also give a public talk at Berlinale Talents, and will premiere a new short that expands the Tár universe, The Fundraiser, that will screen alongside their talk.
Berlinale Special first titles
Infinity Pool (Can)
Dir: Brandon Cronenber
European premiere
Loriot's Great Cartoon Revue (Ger)
Dir: Peter Geyer
World premiere
#Manhole (Jap)
Dir: Kazuyoshi Kumakiri
International premiere
Seneca - On the Creation of Earthquakes (Ger-Mor)
Dir: Robert Schwentke
World premiere
TÁR (US)
Dir: Todd Field
German premiere
Untitled Boris Becker Documentary (UK-US)
Dir: Alex Gibney
World premiere
Forum first titles
Concrete Valley (Can)
Dir: by Antoine Bourges
A Syrian family has lived in Canada for five years. As Farah tries to settle in with her community in Toronto, Rashid – an unlicensed doctor – struggles with the ruptures in his biography. A film about the everyday difficulties in a new country.
International premiere
Dearest Fiona (Neth)
Dir Fiona Tan
As a voice reads letters from a father to his daughter off camera, 20th century archival images from the Netherlands are shown. Fiona Tan touchingly explores what potential emerges when sound and image diverge.
World premiere
Horse Opera (US)
Dir: Moyra Davey
Narrations of parties and nightly lectures meet images of urinating horses and still lives in a country house. The soundtrack – from Lauryn Hill to Prince – is overshadowed only by Moyra Davey's laconical voice.
European premiere
The Trial (Arg-It-Fr-Nor)
Dir: Ulises de la Orden
Documentary set in 1985 – two years after the end of the military dictatorship in Argentina, leading members of the junta are tried in court. Ulises de la Orden creates 18 succinctly edited chapters from 530 hours of footage, bearing witness to state terror.
World premiere
Calls From Moscow (Cuba-Ger-Nor)
Dir: Luís Alejandro Yero
Documentary about s prefabricated estate in Moscow that is meant as a transit stop for four young people from Cuba – until Russia's attack on Ukraine radically shifts their outlook. Moving telephone calls back home provide the structure of Luís Alejandro Yero's debut work.
World premiere
Mammalia (Rom-Pol-Ger)
Dir: Sebastian Mihăilescu
When he spies on his partner, Camil discovers something sinister: a cult with white robes and strange rituals. Sebastian Mihăilescu's experimental narrative cinema plays with myths, gender roles, and the set pieces of the horror genre.
World premiere
Notes From Eremocene (Slo-Czech Rep)
Dir: Viera Čákanyová
Scientist Edward O. Wilson has named the coming geological era Eremocene. In her analogue science fiction essay, Viera Čákanyová explores this era of loneliness in dialogue with a virtual alter ego from the future.
World premiere
This Is The End (Fr)
Dir: Vincent Dieutre
Road trips through Los Angeles, famous verses in the Poetry Lounge and love in times of the pandemic: Rendezvous with an old flame, fourty years later. After Jaurès (2012), Vincent Dieutre presents another tender autofictional piece in the Forum
World premiere
All synopsis supplied by festival.