The European Film Market (EFM), held each year during the Berlin International Film Festival, is launching a new initiative called EFM Landmark in partnership with the European Film Commissions Network (EUFCN).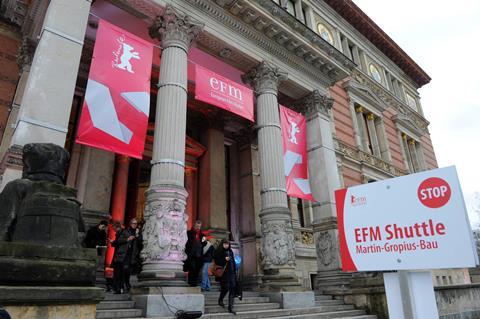 EFM Landmark wil be a series of eventsl bringing together producers and film commissioners to analyse trends, tax rebates, incentives, locations, and co-production opportunities for features and series.
There will also be a matchmaking service held across two consecutive days of the market (February 24-25). Events will take place at the Gropius Bau, as well as in the Berlin House of Representatives, where the Berlinale Co-Production Market takes place.
Access to EFM Landmark will be for market badge holders.
"In addition to visiting film commissioners at the stand where they do their one-on-one meetings during the week, EFM Landmark events will help both producers and film commissioners to get a quick overview in two days of what's cooking, what's changing, who's new and where to find unexpected gems that will help them speed up pre-production at the right location and forge collaborations," said EFM director Matthijs Wouter Knol.
"It's extremely important to have a physical space in such a huge international market where the industry can easily meet all our film commissions and learn more about our activity," added EUFCN president Truls Kontny.
EUFCN is a non-profit network of around 100 European film commissions.