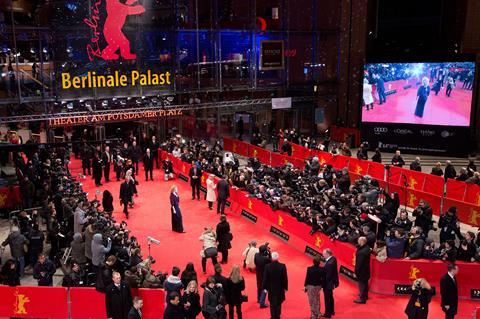 The Berlinale has adjusted its Covid-19 safety regulations ahead of next month's in-person festival, with enhanced testing for access to press areas.
Accredited press must present proof of a negative antigen test from within the previous 24 hours in order to enter press screenings, press conferences, press lines, the Press Centre, interview spaces and other press areas.
This measure applies to all press, regardless of vaccination status. Free testing for press will be available at Potsdamer Platz, the festival's main hub.
"As accredited press representatives have a wider range of movement and therefore more contacts, this regulation has been put in place to increase their own safety," said a festival statement issued to press.
To speed up access to these areas, locations in Potsdamer Platz will provide access wristbands upon proof of a valid negative test, with each band valid until the end of the day.
The testing obligation is not required for press to attend public events, including screenings.
Vaccination proof
The festival is also anticipating a change in Germany's Covid-19 prevention regulations. Proof of recovery from Covid-19 will be valid for three months instead of the previous six, as per the recommendation of the Robert Koch Institute, a federal body responsible for safeguarding public health in Germany.
The change has not yet come into effect but is expected to do so before the festival begins on February 10.
Attendees who have received the Johnson & Johnson vaccination (which has been used substantially in the US) will be required to have had a second dose of an EU-approved mRNA vaccine, or a second dose of a Johnson & Johnson vaccination at least 14 days previously, and no more than nine months ago.
The festival has also introduced fixed positioning for camera teams at press conferences and red carpets. Teams will receive position numbers, with "independent positioning" not allowed. Only front row positions will be available for the press line.
The festival will run from February 10-16; it is the first February event the Berlinale has held since the pandemic, with last year's festival running online in February and supplemented by in-person screenings in June.