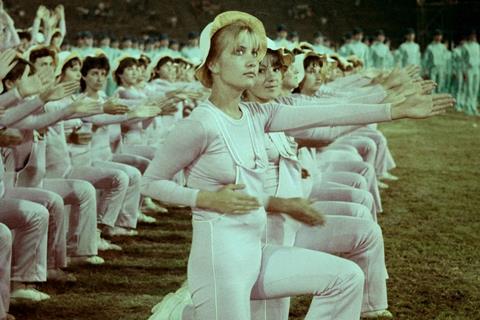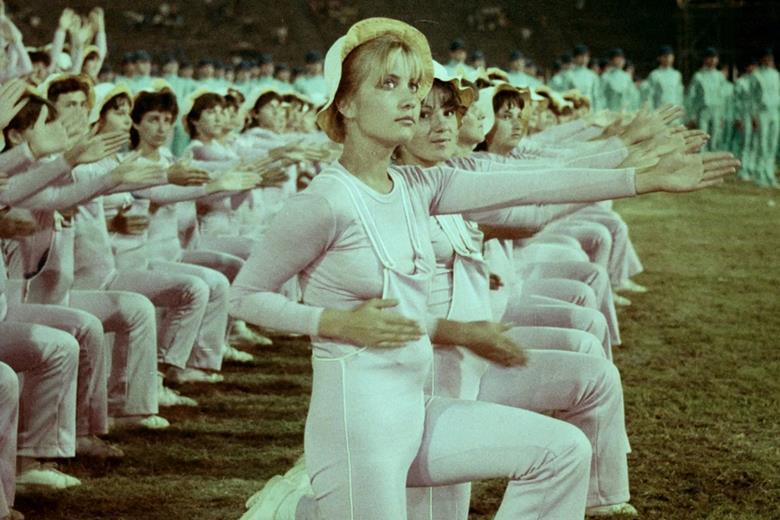 Documentaries about the Iranian and Romanian revolutions of the 1970s and 80s, and the ongoing war in Ukraine are among the final 20 titles selected for the Berlinale's Forum strand.
Vlad Petri's Between Revolutions shows a semi-fictional correspondence between two women: one going to Iran in 1979, the other experiencing the years of Ceausescu's Romania.
Scroll down for the full list of Forum titles
The Romania-Croatia-Qatar-Iran co-production is produced by Monica Lazurean-Gorgan for Romania's Activ Docs.
Piotr Pawlus and Tomasz Wolski's In Ukraine looks to push beyond the regular images of war to show the reality that Ukraine has experienced since the Russian invasion of February 24, 2022.
With exact screening dates to be confirmed, the Polish film will screen around the first anniversary of the Russian attack, with the Berlinale running from February 16 to 26.
Both films are having world premieres at Berlin.
One UK title makes the 28-strong Forum selection: the international premiere of Luke Fowler's Being In A Place – A Portrait Of Margaret Tait, a film-exhibit hybrid that played as an art installation last year.
The titles are in addition to the eight Forum films announced in December last year.
Expanded
34 works from 20 countries will be presented in the Forum Expanded section, comprised of films and installations.
Titles include the world premiere of Graeme Arnfield's essay film Home Invasion, tracing the invention and constant reinventions of the doorbell through to contemporary surveillance cultures.
The Berlinale has unveiled its Special and Perspektive Deutsches Kino sections in the last week, as well as opening film She Came To Me by Rebecca Miller. The full programme will be announced on Monday, January 23.
Berlinale Forum 2023 full list
* - world premiere
About Thirty (Arg) dir. Martin Shanly*
Allensworth (US) dir. James Benning
Anqa (Austria-Sp) dir. Helin Celik*
Being In A Place – A Portrait Of Margaret Tait (UK) dir. Luke Fowler
Between Revolutions (Rom-Cro-Qat-Iran) dir. Vlad Petri*
The Bride (Rwa) dir. Myriam U. Birara*
Calls From Moscow (Cuba-Ger-Nor) dir. Luis Alejandro Yero*
Cidade Rabat (Por-Fr) dir. Susana Nobre*
Concrete Valley (Can) dir. Antoine Bourges
De Facto (Austria-Ger) dir. Selma Doborac*
Dearest Fiona (Neth) dir. Fiona Tan*
The Face Of The Jellyfish (Arg) dir. Melisa Liebenthal
Forms Of Forgetting (Tur) dir. Burak Cevik*
A Golden Life (B Faso-Ben-Fr) dir. Boubacar Sangare*
Horse Opera (US) dir. Moyra Davey
In Ukraine (Pol) dirs. Piotr Pawlus, Tomasz Wolski*
The Intrusion (Braz-Fr) dirs. Flora Dias, Juruna Mallon*
Leaving And Staying (Ger) dir. Volker Koepp*
Mammalia (Rom-Pol-Ger) dir. Sebastian Mihailescu*
Notes From Eremocene (Slo-Cze) dir. Viera Cakanyova*
Our Body (Fr) dir. Claire Simon*
Regardless Of Us (S Kor) dir. Yoo Heong-jun*
Remembering Every Night (Jap) dir. Yui Kiyohara
The Temple Woods Gang (Fr) dir. Rabah Ameur-Zaimeche
There Is A Stone (Jap) dir. Tatsunari Ota
This Is The End (Fr) dir. Vincent Dieutre*
The Trial (Arg-It-Fr-Nor) dir. Ulises de la Orden*
Where God Is Not (Fr-Switz) dir. Mehran Tamadon*