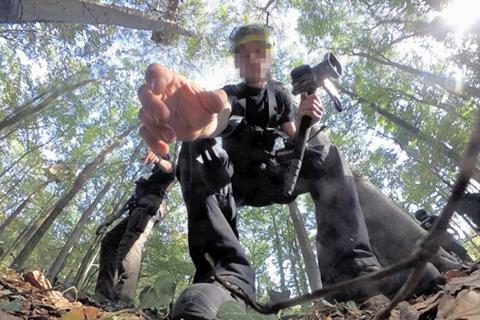 The Berlinale has unveiled the programme for the Perspektive Deutches Kino strand at its 2023 festival, with 16 films of which seven are feature world premieres.
The section will open with the world premiere of Steffi Niederzoll's feature debut documentary Seven Winters In Tehran, analysing the case of Reyhaneh Jabbari, a female student in Iran who was hanged for murder having acted in self-defence against her rapist.
Scroll down for the Perspektive Deutches Kino features list
Titles also include Engin Kundag's debut feature Ararat, in which a woman causes a traffic accident in Berlin, so escapes to her parents' home in Turkey, where her self-destructive and sexually assertive behaviour infuriates more than just her family; while the Ararat volcano looms above them.
Female perspectives and gender constructs are a key theme of the section, which is under the leadership of section head Jenni Zylka for the first time. Further features to pick up these topics include Milena Aboyan's Elaha, and Sophia Mocorrea's The Kidnapping Of The Bride.
The films will compete for the Heiner Carow prize and Compass-Perspektive award, each worth €5,000. Jurors for the prizes are actor Dela Dabulamanzi, editor Anne Fabini, and director Jons Jonsson.
Classics
For its Classics strand, the 73rd Berlinale will present digitally restored versions of films from the 1980s and 1990s. With eight films programmed so far, titles include the section's first South African title, Oliver Schmitz's 1988 crime drama Mapantsula, plus Nanni Moretti's Sweet Dreams, Gyorgy Feher's Twilight and David Cronenberg's Naked Lunch.
The Retrospektive strand has the theme 'Young at Heart – Coming of Age at the Movies', and has so far selected 23 titles, including John Hughes' Ferris Bueller's Day Off, Harold Ramis' Groundhog Day and Peter Bogdanovich's The Last Picture Show.
The Perspektive Deutches Kino, Classics and Retrospektive sections are part of the Berlinale official selection; this year's festival runs from February 16 to 26.
Berlinale Perspektive Deutches Kino 2023 features
Ararat (Ger) dir. Engin Kundag*
Dora Or The Sexual Neuroses Of Our Parents (Ger-Switz) dir. Stina Werenfels
A Hologram For The King (Ger-US) dir. Tom Tykwer
Elaha (Ger) dir. Milena Aboyan*
On Mothers And Daughters (Ger) dir. Tanja Egen*
Jacob The Liar (German Democratic Republic) dir. Frank Beyer
Kash Kash (Ger) dir. Lea Najjar
Bones And Names (Ger) dir. Fabian Stumm*
Nuclear Nomads (Ger) dirs. Killian Armando Friedrich, Tizian Stromp Zargari*
Requiem (Ger) dir. Hans-Christian Schmid
Seven Winters In Tehran (Ger-Fr) dir. Steffi Niderzoll*
Tehran Taboo (Ger-Aus) dir. Ali Soozandeh
Lonely Oaks (Ger) dirs. Fabiana Fragale, Killian Kuhlendahl, Jens Muhlhoff*
* - world premiere