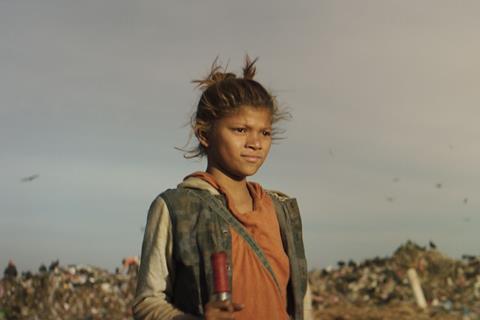 Brussels-based Best Friend Forever has scored a slew of sales for Laura Baumeister's feature debut Daughter of Rage, the first fiction feature shot by a female Nicaraguan-born director.
The Spanish-language coming of age tale, whose original title is La Hija de Todas Las Rabias, follows a young girl growing up on a vast garbage dump in Nicaragua.
Best Friend Forever has sold the film to Tamasa Distribution in France, Trigon Film in Switzerland, A Contracorriente Films in Spain, Interior 13 Cine in Mexico, Stroll Films in Japan and HBO for Eastern Europe. Sales to North America, Benelux, Colombia and Brazil are currently under discussion.
Daughter of Rage world premiered at the Toronto Film Festival in September 2022 before a European premiere as part of the New Directors Competition at San Sebastian Film Festival. The film journeyed through the Torino Filmlab, San Sebastian's co-production Forum and San Sebastian WIP before being completed.
Daughter of Rage is a seven-country co-production from an international blend of veteran and upcoming producers including Rossana Baumeister and Bruna Haddad (Dos Estaciones, Sundance 2022) for Felipa Films (Nicaragua) and Martha Orozco for Marth Films (Mexico). The film is co-produced by the Netherlands' Halal, Germany's Heimatfilm, France's Promenades Films, Nicaragua's Cardon Pictures, Norway's Dag Hoel Filmproduksjon and Spain's Nephilim Producciones.
The Spanish-language feature follows an 11-year-old girl who lives with her mother at the edge of a garbage dump. Their future depends on selling a litter of purebred puppies to a local thug, but when the deal falls through, the mother travels to the city and drops her daughter off at a recycling center where she must stay and work. As the days pass and her mother doesn't return, the young girl feels lost, bewildered and angry. One night, she meets an imaginative new friend who is determined to help her to reunite with her mother.
Baumeister is known for her shorts Isabel im Winter that premiered at Cannes Critics' Week in 2014 and Ombligo De Agua that screened at IFFR and Clermont-Ferrand in 2018. The film stars Ara Alejandra Medal, Virginia Sevilla, Carlos Gutierrez, Noe Hernandez and Diana Sedano.